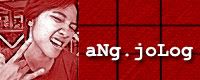 LaKas maGpuYat | LaKas maGkaPe | LaKas TumaWa | LaKas cHuMika | LaKas kUmaiN | LaKas ma-iN LoVe | LaKas TumiLi | LaKas suMuNtok | LaKas maNg-aSaR | LaKas-TaMa | hiNdi LaNg paMpaMiLya, paNg-bakLa pa! LaKas!!!

[ want a blinky? ]
[ more blinkies! ]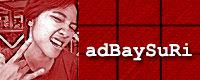 Ang mga nilalaman ng blog na ito ay solong pag-aari ng may-akda (bukod na lang kung sinabi niyang hindi...) at mahigpit na ipinagbabawal ang pagkopya, pamimirata at paggamit ng mga ito sa ibang paraan.
Pero kung ayaw niyong papigil... bahala kayo. Meron naman tayong tinatawag na KARMA!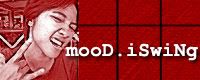 04.10.05

Ngayon ko na-realize... tumatanda na pala ako. Hindi na ako batang walang ibang inaalala kung hindi ang sarili ko. At malungkot ako dahil unti-unti na akong tumatanda.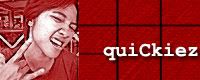 [ as of 05.20.05, 3:39p ]
@ Asar ako dahil... Sira ang PC ko!!! ARGH! I knew that ancient artifact was about to give up one of these days!!! Tigang ako sa internet! DOUBLE ARGH!
@ Currently addicted to... ABS-CBN's Stained Glass. See latest post (May 05: Job hunting) for details. Ang guwapo kasi ni Dong Gun Oppa talaga!!!
@ Kras kong ilegal si... John Vladimir Manalo ng Goin' Bulilit. Need I explain kung bakit "ilegal" ang pagka-kras ko dito???
@ Latest hobby... Researching about Seoul, Korea and learning how to speak in Korean for a fan fiction I'm writing entitled "Cloudy Eyed Girl."
@ Plug lang... Michael Cruz' Official Site is now online! Check it out!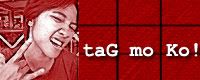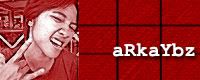 April 2004
May 2004
June 2004
July 2004
August 2004
September 2004
October 2004
November 2004
December 2004
January 2005
February 2005
March 2005
April 2005
May 2005
September 2005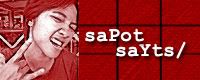 my sites
cybervhong
rockidolmikecruz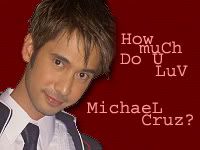 Tell us here! Join our Mike-loving crew and jam with us!
my faves
mikesterz community
abs-cbn kapamilya
lee dong gun official site
kwon sang woo official site
pinoyexchange
peyups
queer eye for the straight guy
friendster
happy tree friends
blogspot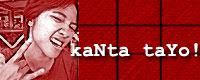 Just heard this song and saw its music video, thanks to Mikester Mitzi (Michi). I'm really tripping over Lee Dong Gun Oppa! Perfect rendition! I LOVE it!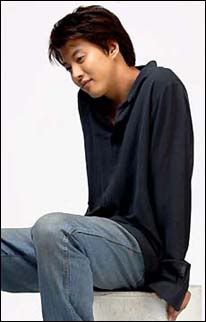 And I love you so
Lee Dong Gun
(originally done by Perry Como)
And I love you so
The people ask me how
How I've lived 'til now
I tell them I don't know

I guess they understand
How lonely life has been
But life began again
The day you took my hand

And yes I know, 
how lonely life can be
The shadows follow me 
And the night won't set me free
But I don't let 
the evening get me down
Now that you're around me

And yes I know, 
how lonely life can be
The shadows follow me 
And the night won't set me free
But I don't let 
the evening get me down
Now that you're around me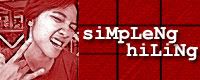 GADGETS
magic sing!!! | an iPod! | mini mp3 player | SONY discman | 5 megapixel digicam with firewire | a new cellphone with hi-res camera | a new PC monitor and keyboard set
MUSIC STUFF
Beatles Album Collection | Michael Jackson's HIStory | Eraserheads Anthology | The Calling's 1st and 2nd album | a new guitar | Sugarfree's Dramachine
BOOKS
Angels & Demons by Dan Brown | Five People You Meet in Heaven by Mitch Albom | Pugad Baboy 1-17 by Pol Medina (complete collection) | Secrets of the Code (Guide to reading The Da Vinci Code) | Like Water for Chocolate by Laura Esquivel
VCDs
Will & Grace Seasons 1-7 | Queer Eye for the Straight Guy | My Boyfriend is Type B (Korea)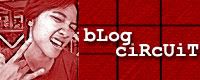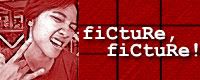 click on the thumbnails to view the actual pictures... you can also leave your comments!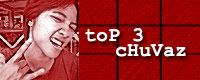 [ as of 05.05.05 ]
.songs in my head.
>> and i love you so - lee dong gun (oppa!)
>> love moves in mysterious ways - nina
>> now and forever - richard marx
.addictions.
>> Stained Glass (Korea) Lee Dong Gun | Kim Ha Neul
>> coffee (pa rin! may pinagbago ba? adik 'to!)
>> KR movies/dramas!
.crushes.
>> Lee Dong Gun Oppa!
>> Kwon Sang Woo Oppa!
>> John Vladimir Manalo of Goin' Bulilit (at talaga naman!!!)
.most abused words.
>> sarang hae yo!
>> oppa
>> charos!!!
.must-haves.
>> money! money! money!
>> a nice big hug everyday
>> jowa (hahaha! as if!)
.must-do's.
>> get a new job
>> layout Michael's poster
>> learn to speak Korean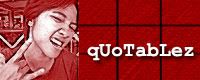 "Alam kong hindi niya kasalanang magmahal ng iba, pero sana hindi ka niya sinasaktan." - text ni Beb (02.01.05)
this is for Jade...
sometimes i wonder
how i'd ever make it through
in this world without having you
i just wouldn't have a clue...

and sometimes it seems
that this world's closing in on me
and there's no way of breaking free
then i see you reach out for me...

sometimes i wanna give up
wanna give in
wanna quit the fight

then i look at you baby,
and everything's alright...

when i see you smile,
i can face the world,
ohh, you know that i can do anything...
when i see you smile,
i see a ray of light,
ohh, i see your shining light through the rain...

when i see you smile,
baby when i see you smile at me...

sobrang sarap ng feeling kagabi when Jade hugged me... for i guess 2 whole minutes (?) coz it was so damn cold!!! literally now, i can say that i held him in my arms... and it was the most beautiful feeling in the world! feeling ko ang ganda-ganda ko kahapon while we were talking tapos yakap niya ako... ang hirap magpanggap na kaya ako masaya eh dahil sa kanya...

hay Jade... you're making me fall.

sana walang magalit na Vhongsterz sa akin pag sinabi kong i'm in the process of "letting go" of Kuya Vhong na. i don't know, parang the more we see each other sa work, the more we are drifting apart. the more i discover things about him, the more i don't know anything about him... gets niyo? ay naku... puyat na naman ako kaya ako ganito.

pero seriously, its easier for me now na bitiwan si Kuya... siguro kasi nandiyan si Jade, pero ewan... parang ganun na hindi.

not that im gonna really let go of Kuya... siyempre love ko yun. im here in this biz because of him... and i got to know lots of people because of him (I got to know Jade coz of him!)... kahit hindi niya alam, andami niyang nagawa sa buhay ko na nagpabago sa akin. pero... alam niyo yun... you can't have it all talaga. kung nung dati i've been wishing to see him, work with him, tapos napagbigyan ako ni Lord, tapos i wished na sana maging parte ako ng circle of friends niya... that's the wish i didn't get... and i think hindi ko talaga yun maaabot.

nevertheless, okay lang. as ive said, its easier for me now to accept what i am sa buhay niya. where i stand... ganun. and its easier for me now to see that he's done enough good in my life, that he had "winged" me to get to where i am, and probably its time for me now to let go and help others to get here.

pero hindi ibig sabihin nito pababayaan ko yung fans... the fans will always be my priority. its just that im glad that i know now kung ano lang dapat ang ine-expect ko... not too much, and not too little din. don't get me wrong, Kuya is such a nice person... medyo there are things lang talaga na nagtataliwas kaming dalawa, and minsan kahit gaano ako ka-understanding, hindi ko ma-take (hindi ko kinaya) na ganun nga siya o ang paniniwala niya.

have i posted enough trash? haha.

sobrang love ko yan si Kuya... hindi ko yan pababayaan. promise kahit inuutusan niya na ako ngayon, hindi ako naiinis (its not part of my job na mautusan niya) kasi its my way of thanking him for being HIM. when i leave the Wazzup set nga, i always make chika sa driver niyang si Kuya Tyrone, lagi kong sinasabi na mag-ingat siya sa pag-drive para di sila maaksidente kasi love ko yung sakay niya. hindi pa rin nawawala yung concern... laging nandun yun. ngayon lang... its a little less (in intensity) than before... and im glad its turned out that way.

siya, tama na nga... gotta do lots of work pa today! we go live at Gloria Jeans, The Fort!