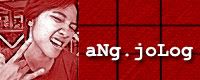 LaKas maGpuYat | LaKas maGkaPe | LaKas TumaWa | LaKas cHuMika | LaKas kUmaiN | LaKas ma-iN LoVe | LaKas TumiLi | LaKas suMuNtok | LaKas maNg-aSaR | LaKas-TaMa | hiNdi LaNg paMpaMiLya, paNg-bakLa pa! LaKas!!!

[ want a blinky? ]
[ more blinkies! ]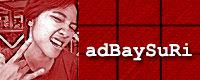 Ang mga nilalaman ng blog na ito ay solong pag-aari ng may-akda (bukod na lang kung sinabi niyang hindi...) at mahigpit na ipinagbabawal ang pagkopya, pamimirata at paggamit ng mga ito sa ibang paraan.
Pero kung ayaw niyong papigil... bahala kayo. Meron naman tayong tinatawag na KARMA!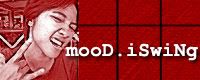 04.10.05

Ngayon ko na-realize... tumatanda na pala ako. Hindi na ako batang walang ibang inaalala kung hindi ang sarili ko. At malungkot ako dahil unti-unti na akong tumatanda.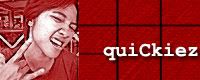 [ as of 05.20.05, 3:39p ]
@ Asar ako dahil... Sira ang PC ko!!! ARGH! I knew that ancient artifact was about to give up one of these days!!! Tigang ako sa internet! DOUBLE ARGH!
@ Currently addicted to... ABS-CBN's Stained Glass. See latest post (May 05: Job hunting) for details. Ang guwapo kasi ni Dong Gun Oppa talaga!!!
@ Kras kong ilegal si... John Vladimir Manalo ng Goin' Bulilit. Need I explain kung bakit "ilegal" ang pagka-kras ko dito???
@ Latest hobby... Researching about Seoul, Korea and learning how to speak in Korean for a fan fiction I'm writing entitled "Cloudy Eyed Girl."
@ Plug lang... Michael Cruz' Official Site is now online! Check it out!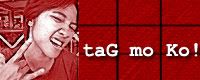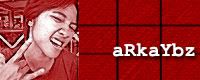 April 2004
May 2004
June 2004
July 2004
August 2004
September 2004
October 2004
November 2004
December 2004
January 2005
February 2005
March 2005
April 2005
May 2005
September 2005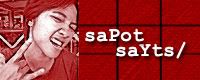 my sites
cybervhong
rockidolmikecruz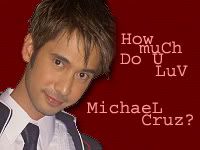 Tell us here! Join our Mike-loving crew and jam with us!
my faves
mikesterz community
abs-cbn kapamilya
lee dong gun official site
kwon sang woo official site
pinoyexchange
peyups
queer eye for the straight guy
friendster
happy tree friends
blogspot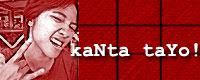 Just heard this song and saw its music video, thanks to Mikester Mitzi (Michi). I'm really tripping over Lee Dong Gun Oppa! Perfect rendition! I LOVE it!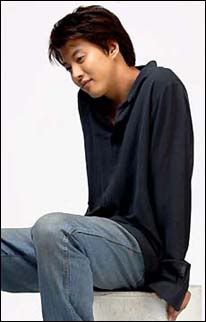 And I love you so
Lee Dong Gun
(originally done by Perry Como)
And I love you so
The people ask me how
How I've lived 'til now
I tell them I don't know

I guess they understand
How lonely life has been
But life began again
The day you took my hand

And yes I know, 
how lonely life can be
The shadows follow me 
And the night won't set me free
But I don't let 
the evening get me down
Now that you're around me

And yes I know, 
how lonely life can be
The shadows follow me 
And the night won't set me free
But I don't let 
the evening get me down
Now that you're around me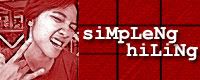 GADGETS
magic sing!!! | an iPod! | mini mp3 player | SONY discman | 5 megapixel digicam with firewire | a new cellphone with hi-res camera | a new PC monitor and keyboard set
MUSIC STUFF
Beatles Album Collection | Michael Jackson's HIStory | Eraserheads Anthology | The Calling's 1st and 2nd album | a new guitar | Sugarfree's Dramachine
BOOKS
Angels & Demons by Dan Brown | Five People You Meet in Heaven by Mitch Albom | Pugad Baboy 1-17 by Pol Medina (complete collection) | Secrets of the Code (Guide to reading The Da Vinci Code) | Like Water for Chocolate by Laura Esquivel
VCDs
Will & Grace Seasons 1-7 | Queer Eye for the Straight Guy | My Boyfriend is Type B (Korea)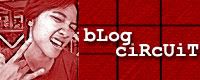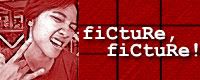 click on the thumbnails to view the actual pictures... you can also leave your comments!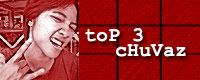 [ as of 05.05.05 ]
.songs in my head.
>> and i love you so - lee dong gun (oppa!)
>> love moves in mysterious ways - nina
>> now and forever - richard marx
.addictions.
>> Stained Glass (Korea) Lee Dong Gun | Kim Ha Neul
>> coffee (pa rin! may pinagbago ba? adik 'to!)
>> KR movies/dramas!
.crushes.
>> Lee Dong Gun Oppa!
>> Kwon Sang Woo Oppa!
>> John Vladimir Manalo of Goin' Bulilit (at talaga naman!!!)
.most abused words.
>> sarang hae yo!
>> oppa
>> charos!!!
.must-haves.
>> money! money! money!
>> a nice big hug everyday
>> jowa (hahaha! as if!)
.must-do's.
>> get a new job
>> layout Michael's poster
>> learn to speak Korean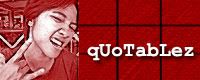 "Alam kong hindi niya kasalanang magmahal ng iba, pero sana hindi ka niya sinasaktan." - text ni Beb (02.01.05)
thank you is a loaded statement...
We often forget to say "Thank you" to those people who have, in their own little or big ways, done good deeds to us and made our daily lives better. Without these people, my days would've not been as bittersweet (bitter because of certain unavoidable circumstances... and sweet because of these angels).

| mY paReNts |
-- Man, I wouldn't know what to do if I didn't have parents as supportive as them. Never in my life had they tried to dictate to me what I should do, nor have they killed my freedom and liberty to choose what I want to be. Sure they would kick my disobedient, naughty ass sometimes, but they sure kicked some sense out of me too. I love the relationship I have with them, open and honest and sincere... I would never trade them with any other set of parents in the world. They are simply great.

| kuYa keviN |
-- I haven't written to my kuya for quite some time now, but I know he understands. And I also know that whatever I am now, I owe partially to him. You see, as my closest of friends know, Kuya Kevin is not of this world. He is my guardian angel, my big brother... who looks after me as if he is still here. He sends me a flock of angels who help me with my everyday existence, but he also knows when to leave me alone and make me realize I have done something wrong. Kuya... I will never stop believing in you. And I can't wait to see you for the very first time.

| mY waZZup faMiLy |
-- They've been causing me headaches and sleepless nights for the past 5 months, but what the heck! My life would've been boring if I had not been part of this crazy, hardworking and very creative people. I want to thank them so much for making me feel a barrage of emotions every single day (giddyness - excitement - disappointment - joy - exhaustion - fear - frustration - happiness - pride, etc... etc... etc...). And I want to thank them also for giving me so much experience in just 5 months that I feel like I'm a stronger, better person all throughout. You're the best, guys...

| kuYa vhoNg |
-- My want to see him may not be as strong as before, but I will be forever grateful to him because he indirectly led me to this path I'm trodding right now, where I meet lots of different people and where I feel lots of different things. He opened a new world for me, and I've been loving it.

| mY taDjoCk queStioNabLes |
-- I mean ALL of them. They might've given me headaches too, but I want to thank them because I feel a certain happiness when I see them or think about what we've all been through this past season. I feel like their mother, and I feel like I'm responsible for all of them even if they could easily fend for themselves. They taught me the valuable lesson of understanding and dealing with people, and learning to be compassionate and considerate of others' conditions. In my own way, I fought for them, and I feel good that I did.

| miChaeL |
-- This guy has been my angel for this season. He will always be there when I needed to smile or to remember that life isn't all that bad. The weird thing is, he is CLUELESS that he's been my angel until I told him! I wanna thank him simply for existing, and for being very, very nice to a emotional soul like me.

| mY vhoNgsteRz |
-- I love it when these people miss me as much as I miss them. I love them because they love Kuya Vhong and because I think they love me too. (heeheehee... assuming!) And I love them because they leave sweet messages for me on my inbox, and they get alarmed when I'm sick... they're very thoughtful and treat me like a sister. So to Faye, Anna, Cel, Rhen, Guiny, Jhoiz and all the other Vhongsterz who care... thank you so much.

| mY miKesTeRz |
-- Like my Vhongsterz, my Mikesterz are a group of people who make my day just by posting messages on our YG. It sort of gives me a nice feeling to connect with so many different people and share their interests, their feelings, their joys and frustrations... I hope to have more fun moments with you guys. As early as now, I want to thank you for sharing your lives with me.

| mY beStfRieNd, maCri |
-- She might be a big pain (haha!) sometimes, but she is one of the sweetest people I have ever known in my entire 21 years of existence. Sweet but fiercely loyal, understanding, ever-ready to help out a friend in need, creative and trustworthy... everything that you will ever want in a friend... she is one great package I intend to keep for as long as I live. Thanks, Macri... for all that you've done for me, you deserve something a little more than special. Something miraculously beautiful and great, something that will make you endlessly happy. I wish you will find it someday soon.

| my siSteR, jiLL |
-- We may not have the perfect relationship, but I love her just the same because we share the same interests... well, almost. Even if she keeps on shoving me away everytime I want to kiss her or hug her, I still love her because, simply put, she is a little Tara... just exploring her world, trying out her luck, and finding that life is not as peachy as when she was just a toddler. I love her because she is my sister, and because she loves me too... (she makes me do her assignments once in a while, but what the heck... she buys me stickers anyway.)

| my aTe pearL |
-- I never knew we would be THIS close because I was closer to her sister when we were kids, but now, she knows almost everything there is to know about me... the juicy details, that is. She is my first cousin, but she is like a REAL sister to me. Even if she is asleep the whole time (hehehe, wawa!), I love our small talks that end big, our heart-to-heart talks about our lives, dreams and aspirations... she makes me re-think my life and my purpose for loving (sometimes), and I think I'm a better person because of that.

There are so many other people I would like to thank in this entry, but if this were an awards ceremony, and this is my speech, the people in the audience must be asleep by now. So I would like to cut it short and say this line I've learned when I was in Highschool:

We are all angels with only one wing, we need each other to be able to fly.

Thank you to all those people who have winged me over to the next phases of my life, whether good or bad. Thank you for being part of my life at one point or another, for staying or leaving, for causing me joy or pain, for making me feel loved or rejected, for being yourself and encouraging me to do the same.

You might or might not know who you are, but I thank you just the same. Till we meet again.