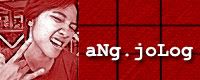 LaKas maGpuYat | LaKas maGkaPe | LaKas TumaWa | LaKas cHuMika | LaKas kUmaiN | LaKas ma-iN LoVe | LaKas TumiLi | LaKas suMuNtok | LaKas maNg-aSaR | LaKas-TaMa | hiNdi LaNg paMpaMiLya, paNg-bakLa pa! LaKas!!!

[ want a blinky? ]
[ more blinkies! ]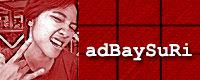 Ang mga nilalaman ng blog na ito ay solong pag-aari ng may-akda (bukod na lang kung sinabi niyang hindi...) at mahigpit na ipinagbabawal ang pagkopya, pamimirata at paggamit ng mga ito sa ibang paraan.
Pero kung ayaw niyong papigil... bahala kayo. Meron naman tayong tinatawag na KARMA!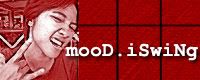 04.10.05

Ngayon ko na-realize... tumatanda na pala ako. Hindi na ako batang walang ibang inaalala kung hindi ang sarili ko. At malungkot ako dahil unti-unti na akong tumatanda.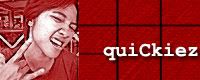 [ as of 05.20.05, 3:39p ]
@ Asar ako dahil... Sira ang PC ko!!! ARGH! I knew that ancient artifact was about to give up one of these days!!! Tigang ako sa internet! DOUBLE ARGH!
@ Currently addicted to... ABS-CBN's Stained Glass. See latest post (May 05: Job hunting) for details. Ang guwapo kasi ni Dong Gun Oppa talaga!!!
@ Kras kong ilegal si... John Vladimir Manalo ng Goin' Bulilit. Need I explain kung bakit "ilegal" ang pagka-kras ko dito???
@ Latest hobby... Researching about Seoul, Korea and learning how to speak in Korean for a fan fiction I'm writing entitled "Cloudy Eyed Girl."
@ Plug lang... Michael Cruz' Official Site is now online! Check it out!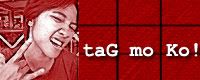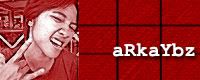 April 2004
May 2004
June 2004
July 2004
August 2004
September 2004
October 2004
November 2004
December 2004
January 2005
February 2005
March 2005
April 2005
May 2005
September 2005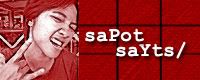 my sites
cybervhong
rockidolmikecruz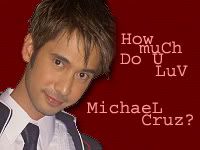 Tell us here! Join our Mike-loving crew and jam with us!
my faves
mikesterz community
abs-cbn kapamilya
lee dong gun official site
kwon sang woo official site
pinoyexchange
peyups
queer eye for the straight guy
friendster
happy tree friends
blogspot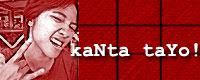 Just heard this song and saw its music video, thanks to Mikester Mitzi (Michi). I'm really tripping over Lee Dong Gun Oppa! Perfect rendition! I LOVE it!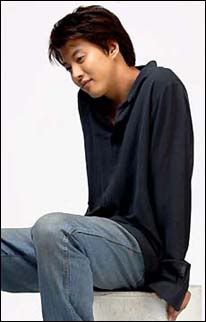 And I love you so
Lee Dong Gun
(originally done by Perry Como)
And I love you so
The people ask me how
How I've lived 'til now
I tell them I don't know

I guess they understand
How lonely life has been
But life began again
The day you took my hand

And yes I know, 
how lonely life can be
The shadows follow me 
And the night won't set me free
But I don't let 
the evening get me down
Now that you're around me

And yes I know, 
how lonely life can be
The shadows follow me 
And the night won't set me free
But I don't let 
the evening get me down
Now that you're around me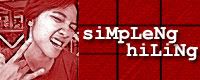 GADGETS
magic sing!!! | an iPod! | mini mp3 player | SONY discman | 5 megapixel digicam with firewire | a new cellphone with hi-res camera | a new PC monitor and keyboard set
MUSIC STUFF
Beatles Album Collection | Michael Jackson's HIStory | Eraserheads Anthology | The Calling's 1st and 2nd album | a new guitar | Sugarfree's Dramachine
BOOKS
Angels & Demons by Dan Brown | Five People You Meet in Heaven by Mitch Albom | Pugad Baboy 1-17 by Pol Medina (complete collection) | Secrets of the Code (Guide to reading The Da Vinci Code) | Like Water for Chocolate by Laura Esquivel
VCDs
Will & Grace Seasons 1-7 | Queer Eye for the Straight Guy | My Boyfriend is Type B (Korea)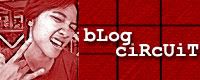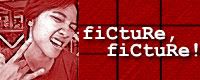 click on the thumbnails to view the actual pictures... you can also leave your comments!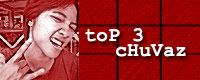 [ as of 05.05.05 ]
.songs in my head.
>> and i love you so - lee dong gun (oppa!)
>> love moves in mysterious ways - nina
>> now and forever - richard marx
.addictions.
>> Stained Glass (Korea) Lee Dong Gun | Kim Ha Neul
>> coffee (pa rin! may pinagbago ba? adik 'to!)
>> KR movies/dramas!
.crushes.
>> Lee Dong Gun Oppa!
>> Kwon Sang Woo Oppa!
>> John Vladimir Manalo of Goin' Bulilit (at talaga naman!!!)
.most abused words.
>> sarang hae yo!
>> oppa
>> charos!!!
.must-haves.
>> money! money! money!
>> a nice big hug everyday
>> jowa (hahaha! as if!)
.must-do's.
>> get a new job
>> layout Michael's poster
>> learn to speak Korean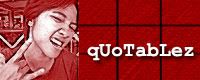 "Alam kong hindi niya kasalanang magmahal ng iba, pero sana hindi ka niya sinasaktan." - text ni Beb (02.01.05)
heLL weeK...
I feel like going through my first week in my new High School. Almost everything that's happened to me in this past week is pathetic and downright degrading. Well... I guess this is the price to pay working for a very demanding TV show.

So anyway, I wanna forget all that has happened (and all that did NOT happen) since today is the Wazzup Party day and we should all be excited... and I think its time to bombard my blog with an interesting Q&A bit. Animo La Salle!!!

1. ANO'NG STUDENT NUMBER MO?
10014799 (o diva? memorized ko pa!? mortal sin ata ang kalimutan mo ang ID number mo noh!)

2. NAKAPASA KA BA OR WAITLISTED?
Nakapasa siyempre! And I'm glad I got in my second choice course, Communication Arts! (The best toh!)

3. PANO MO NALAMAN ANG ENTRANCE EXAM RESULT?
I received a letter from the university.

4. FIRST CHOICE MO BA ANG LASALLE?
No. I really wanted to go to UP and be a member of the UP Pep Squad initially.

5. ALAM MO BA ANG DLSUCET SCORE MO?
No.

6. ANO ANG FIRST CHOICE MO NA COURSE?
AB Organizational Communication

7. SECOND CHOICE?
AB Communication Arts

8. ANO COURSE MO NGAYON?
I just finished my studies... pero I graduated with a degree in Communication Arts.

9. MAY PLANO KA MAG-SHIFT?
Noon? Wala!

10. CHINITO/CHINITA KA BA?
No.

11. TAGA-DLS Greenhills/ Zobel k ba?
No. I'm from St. Scho High School.

12. NAG-ENJOY KA BA SA SALIKSIK?
Oo eh! Bonding time yun...

13. SAANG GATE KA PUMASOK NUNG FIRST DAY?
South Gate.

14. NAKAPAG-DORM KA NA BA?
No. Siyempre hindi papayag ang mama ko na malayo ako sa kanya.

15. NAKA 0.0 KA NA BA?
Hindi. Deferred sa thesis... oo.

16. NAGKA-4.0?
Oo naman! LITERA2 pa yun... kay Sir Jerry Torres!

17. HIGHEST GRADE:
4.5 sa LITERA2 (kasi may .5 na incentive pag walang absent!)

18. LOWEST:
Uno. ALGE101. Lintek si Laarni!

19. WORST EXPERIENCE SA DLSU:
Mag-ulit ng thesis ng dalawang beses. Isa sa writing at isa sa production. Sakit sa ulo, sakit pa sa bulsa.

20. LAGI KA BANG PUMAPASOK SA KLASE?
Depende yan sa subject. Hahaha! Pasaway!

21. ANO'NG ORG MO?
Ang Pahayagang Plaridel (da bes org in tawn! hahaha! grabe ang bonding dito!)

22. MAY SCHOLARSHIP KA BA?
Wala. Boba ako eh... hehe.

23. ILANG UNITS NA ANG NAIPASA MO?
Lahat naipasa ko na. Grumaduate na nga eh.

24. NANGANGARAP KA BA NA MAG-CUM LAUDE?
Oo naman... nung hindi ko pa natitikman ang Majors.

25. KELAN KA MAGTATAPOS?
Nagtapos na. Nung January lang.

26. FAVE TEACHER:
Miss Frances Sangil (ARTAPRE), Mr. Ronald Baytan (LITERA1), Mr. Jerry Torres (LITERA2), Mr. Ramilito Correa (FILIDIS), Mr. Isorena (JPRIZAL) Mr. Vince Groyon (INPRINT, PRINPRO, CONCEPT WRITING & FEATURE), Dr. Doy del Mundo (Thesis Production Adviser)

27. WORST TEACHER:
Naku ha... issue yan!

28. FAVE SUBJECT:
Basta Literature tsaka Writing subjects mahal ko!

29. WORST SUBJECT:
Anything with numbers and letters combined.

30. FAVE LANDMARK SA DLSU:
Huh? May LandMark na sa DLSU? Ganun na ba ako katagal nawala? (toink!) Hehe... hmmm... ano nga ba? Yung Archer na bali ang string ng bow... yung nasa may tapat ng football field.

31. BUILDING:
MIGUEL BUILDING is the building block of my college life! Hahaha! Yung isa pang building eh yung SPS... siyempre, Headquarters ito eh!

32. PABORITONG KAINAN:
SPS kasi mura... kahit minsan parang recycled. (At least nagtitipid sila... hehe!)

34. ESTUDYANTE BA ANG BINABAYAD MO SA JEEP?
Huh?

35. LAGI KA BA SA LIB?
Hindi. Nakakatamad eh.

36. NAGPUNTA KA BA SA CLINIC NUNG MINSANG NAGKASAKIT KA?
Oo... tinurukan pa nga ako dun eh. (drugs?)

37. MAY CRUSH KA BA SA CAMPUS?
Meron.

38. BF/GF?
Hmmm... I refuse to answer the question.

39. MAY BALAK KA BA MAG-MASTERS O MAG-PHD?
Parang wala... as of yet.

40. ANU-ANO ANG MGA NAGING PE MO?
Swimming, Basketball, Dance

41. KAMUSTA NAMAN ANG BLOCK NYO?
Naku, sobrang saya! Para kaming That's Entertainment Thursday Group (tama ba? yung laging nananalo?) sa sobrang talented ng mga tao!

42. NAKAPANOOD KA NA BA NG GRADUATION SA LASALLE?
Yung akin lang.

43. MEMORIZE MO BA ANG ALMA MATER SONG?
Hail, Hail... alma mater, hail to De La Salle. We'll hold your banner high and might, a shield of green white. We'll fight to keep your glory bright and never shall we fail. Hail to thee our alma mater, HAIL, HAIL, HAIL! (tama ba?)

44. MEMORIZE MO BA ANG REKTIKANO?
Oo... pero dahil inaantok na ako... ayokong i-type. Hehe.

45. E ANG BUMAKAYA?
See response above. :)

46. E ANG LASALLE SPELLING?
Ito naman... para mo na rin sinabing hindi ko kayang i-spell ang De La Sale. (hehehe!) De La Salle!

47. MEMBER KA BA NG DLSU VARSITY TEAM?
Naku ha? Kung ganun lang ako katalentado at kung wala akong hika, bakit hindi?!?