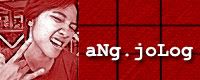 LaKas maGpuYat | LaKas maGkaPe | LaKas TumaWa | LaKas cHuMika | LaKas kUmaiN | LaKas ma-iN LoVe | LaKas TumiLi | LaKas suMuNtok | LaKas maNg-aSaR | LaKas-TaMa | hiNdi LaNg paMpaMiLya, paNg-bakLa pa! LaKas!!!

[ want a blinky? ]
[ more blinkies! ]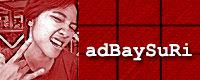 Ang mga nilalaman ng blog na ito ay solong pag-aari ng may-akda (bukod na lang kung sinabi niyang hindi...) at mahigpit na ipinagbabawal ang pagkopya, pamimirata at paggamit ng mga ito sa ibang paraan.
Pero kung ayaw niyong papigil... bahala kayo. Meron naman tayong tinatawag na KARMA!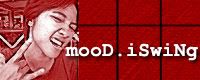 04.10.05

Ngayon ko na-realize... tumatanda na pala ako. Hindi na ako batang walang ibang inaalala kung hindi ang sarili ko. At malungkot ako dahil unti-unti na akong tumatanda.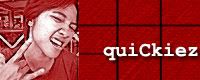 [ as of 05.20.05, 3:39p ]
@ Asar ako dahil... Sira ang PC ko!!! ARGH! I knew that ancient artifact was about to give up one of these days!!! Tigang ako sa internet! DOUBLE ARGH!
@ Currently addicted to... ABS-CBN's Stained Glass. See latest post (May 05: Job hunting) for details. Ang guwapo kasi ni Dong Gun Oppa talaga!!!
@ Kras kong ilegal si... John Vladimir Manalo ng Goin' Bulilit. Need I explain kung bakit "ilegal" ang pagka-kras ko dito???
@ Latest hobby... Researching about Seoul, Korea and learning how to speak in Korean for a fan fiction I'm writing entitled "Cloudy Eyed Girl."
@ Plug lang... Michael Cruz' Official Site is now online! Check it out!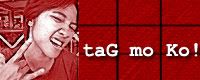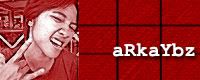 April 2004
May 2004
June 2004
July 2004
August 2004
September 2004
October 2004
November 2004
December 2004
January 2005
February 2005
March 2005
April 2005
May 2005
September 2005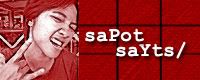 my sites
cybervhong
rockidolmikecruz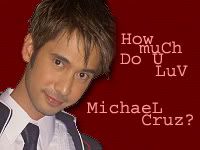 Tell us here! Join our Mike-loving crew and jam with us!
my faves
mikesterz community
abs-cbn kapamilya
lee dong gun official site
kwon sang woo official site
pinoyexchange
peyups
queer eye for the straight guy
friendster
happy tree friends
blogspot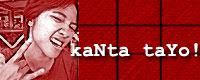 Just heard this song and saw its music video, thanks to Mikester Mitzi (Michi). I'm really tripping over Lee Dong Gun Oppa! Perfect rendition! I LOVE it!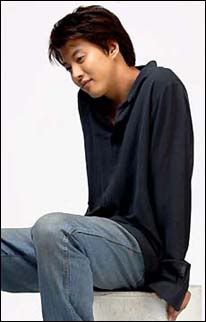 And I love you so
Lee Dong Gun
(originally done by Perry Como)
And I love you so
The people ask me how
How I've lived 'til now
I tell them I don't know

I guess they understand
How lonely life has been
But life began again
The day you took my hand

And yes I know, 
how lonely life can be
The shadows follow me 
And the night won't set me free
But I don't let 
the evening get me down
Now that you're around me

And yes I know, 
how lonely life can be
The shadows follow me 
And the night won't set me free
But I don't let 
the evening get me down
Now that you're around me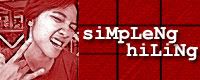 GADGETS
magic sing!!! | an iPod! | mini mp3 player | SONY discman | 5 megapixel digicam with firewire | a new cellphone with hi-res camera | a new PC monitor and keyboard set
MUSIC STUFF
Beatles Album Collection | Michael Jackson's HIStory | Eraserheads Anthology | The Calling's 1st and 2nd album | a new guitar | Sugarfree's Dramachine
BOOKS
Angels & Demons by Dan Brown | Five People You Meet in Heaven by Mitch Albom | Pugad Baboy 1-17 by Pol Medina (complete collection) | Secrets of the Code (Guide to reading The Da Vinci Code) | Like Water for Chocolate by Laura Esquivel
VCDs
Will & Grace Seasons 1-7 | Queer Eye for the Straight Guy | My Boyfriend is Type B (Korea)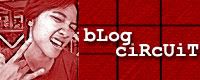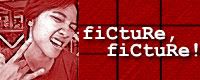 click on the thumbnails to view the actual pictures... you can also leave your comments!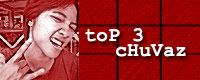 [ as of 05.05.05 ]
.songs in my head.
>> and i love you so - lee dong gun (oppa!)
>> love moves in mysterious ways - nina
>> now and forever - richard marx
.addictions.
>> Stained Glass (Korea) Lee Dong Gun | Kim Ha Neul
>> coffee (pa rin! may pinagbago ba? adik 'to!)
>> KR movies/dramas!
.crushes.
>> Lee Dong Gun Oppa!
>> Kwon Sang Woo Oppa!
>> John Vladimir Manalo of Goin' Bulilit (at talaga naman!!!)
.most abused words.
>> sarang hae yo!
>> oppa
>> charos!!!
.must-haves.
>> money! money! money!
>> a nice big hug everyday
>> jowa (hahaha! as if!)
.must-do's.
>> get a new job
>> layout Michael's poster
>> learn to speak Korean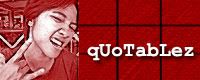 "Alam kong hindi niya kasalanang magmahal ng iba, pero sana hindi ka niya sinasaktan." - text ni Beb (02.01.05)
Zirkoh-han nah!!!
Last night was one of the best gi-Mike nights ever! To start off, I got to meet new friends, Jewel, Melissa and Shawie earlier in the night kasi pinag-meeting-an namin yung Christmas party namin on December 18. Siyempre that's together with Doris, Rocky, and Mitzi (na kapwa ko sugudera sa gi-Mike).

We met up at Starbuck's ABS-CBN, chatted a little and decided we wanted to eat dinner before proceeding to Zirkoh (a comedy bar in Timog). We went to Pixie's... it's a great sinugba mini-resto outside ABS (along Mother Ignacia Street) and ordered 2 super jumbo tilapias, 2 mixed veggies, rice and drinks. Ang sarap, sobra... and we only had to pay what? Around 85 to 95 pesos! Swear... ang mura, diba? Busog na busog pa kami!

And that's why it was a good idea to just walk going to Zirkoh para bumaba ang mga kinain naming lahat. We arrived at Zirkoh a few minutes after 9:00, paid the entrance and sat ourselves right in front of the stage. Kalowkah... kulang na lang ipatong namin yung gamit namin sa stage...

Si Brent yung naabutan naming kumakanta, and then si ER. After ER came Gie (Mike's bestfriend) who said he'll sing a version of Jasmine Trias' new song dahil naka-Jasmine Trias inspired look siya kagabi, tapos biglang pumasakalye yung minus-one... ponyetah! Wherever you will go bigla yung kinanta! Tawa kami nang tawa!

After another number with Duane and Aria, si Mike na ang sumampa sa stage at kumanta ng She will be loved at Unwell. Natuwa kami sa suot niya dahil mukha siyang nature-lover... hehehe... naka-brown pants kasi siya at green top. At may semi-shawl pa na multi-colored... o deba, mukhang puno! Hehehe!

After a few minutes of bantering with the audience, Michael sat with us and made chika. Pinakilala ko siya kina Jewel (kasi first time ni Jewel makapanood ng live performance ni Mike), Melissa and Shawie and then pinicture-an ko sila nang magkakasama para may souvenir naman. Mike asked for updates sa Christmas party, and he was excited to learn that everything was being taken care of na... kaya lang nung sinabihan ko siya na napagkasunduan namin maglaro ng strip poker sa party at siya lang ang paghuhubarin, ang nasabi lang niya ay... "PANGIT!" sabay tawa.

He left the table again so that he can do his hosting job with the other stand-up comedians pero every once in a while pabalik-balik siya sa table. Pinakilala pa pala niya kami sa audience as the Mikesterz... tapos plinug niya yung YG at yung website. Tapos biglang nung tapos na yung set nila and they made way for primetime, nag-text si Mike sa akin at nagtatanong kung gusto raw ba naming uminom. He said he's hanging out at a small resto in front of Zirkoh at puntahan daw namin siya doon.

We paid our bill and went to the small resto where Mike was hanging out in, tapos pinaupo kami sa tabi ng table niya. Sabi niya order lang daw kami ng kahit ano at siya ang taya. Nang-asar pa kasi alam na niyang nahihilo ako dahil sa ininom kong San Mig Light (yeah, yeah... I've a very low tolerance for alcohol) at nagtanong kung gusto ko ba raw ng margarita... shet! Kalowkah! Gusto atang gumapang ako pauwi!

Finally, Mike ordered coffee for me... dahil talagang wasted ang itsura ko at hindi ako halos nagsasalita. We spent 3 hours bantering, laughing, joking around and of course, drinking. Langya si Rocky, muntik nang tunggain yung isang pitsel ng screwdriver nang mag-isa! Kalowkah!

Pinakanta pa si Michael nung isang gay host ng small resto na yun, and tinanong ni Mike si Rocky kung ano gusto niyang ipakanta. Sabi ni Rocky, Wherever you will go daw. Pero pagdating ni Mike sa stage, Ako'y sa iyo Ika'y Akin ang pinakanta sa kanya. Eh may sumpa yung minus-one, tumitigil sa second line... kaya Wherever you will go talaga yung kinanta niya. Hahaha! Minagic ata ni Rocky yung minus-one!

We left the resto at around 3am (kasi humirit pa si Mike ng isa pang round, at talagang ayaw pumayag na hindi kami iinom kahit iced tea lang)... about the same time Mike should have finished his job at Zirkoh. Yeah... hindi na siya bumalik ng Zirkoh and stuck around with us. Awww... how sweet is that!? Keri lang daw kung mapagalitan siya... eh ayaw niya talagang bumalik sa Zirkoh that time. Hehehe... loka-loka talaga yun.

Nag-hang around pa kami sa Zirkoh because Mike went there to get his clothes and stuff. Tapos inubos namin ang laman ng mga camera namin sa kanya. Walangya... karamihan ng mga final shots namin kagaguhan talaga. Gie also was kind enough to take pictures of the whole group. (Thanks, Gie!) We decided to call it a night at around 3:30... sakay na kami sa kanya-kanyang taxi and bade goodbye.

Mike and I were relatively quiet sa loob ng cab. Bangengs na kasi pareho... pero keri lang. Ang saya pa rin ng gi-Mike namin! I'll post the pics later... when I have them developed na. Hehehe... eion... Christmas party na ang kasunod nito!!!