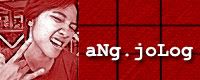 LaKas maGpuYat | LaKas maGkaPe | LaKas TumaWa | LaKas cHuMika | LaKas kUmaiN | LaKas ma-iN LoVe | LaKas TumiLi | LaKas suMuNtok | LaKas maNg-aSaR | LaKas-TaMa | hiNdi LaNg paMpaMiLya, paNg-bakLa pa! LaKas!!!

[ want a blinky? ]
[ more blinkies! ]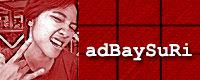 Ang mga nilalaman ng blog na ito ay solong pag-aari ng may-akda (bukod na lang kung sinabi niyang hindi...) at mahigpit na ipinagbabawal ang pagkopya, pamimirata at paggamit ng mga ito sa ibang paraan.
Pero kung ayaw niyong papigil... bahala kayo. Meron naman tayong tinatawag na KARMA!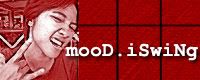 04.10.05

Ngayon ko na-realize... tumatanda na pala ako. Hindi na ako batang walang ibang inaalala kung hindi ang sarili ko. At malungkot ako dahil unti-unti na akong tumatanda.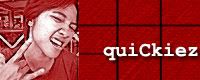 [ as of 05.20.05, 3:39p ]
@ Asar ako dahil... Sira ang PC ko!!! ARGH! I knew that ancient artifact was about to give up one of these days!!! Tigang ako sa internet! DOUBLE ARGH!
@ Currently addicted to... ABS-CBN's Stained Glass. See latest post (May 05: Job hunting) for details. Ang guwapo kasi ni Dong Gun Oppa talaga!!!
@ Kras kong ilegal si... John Vladimir Manalo ng Goin' Bulilit. Need I explain kung bakit "ilegal" ang pagka-kras ko dito???
@ Latest hobby... Researching about Seoul, Korea and learning how to speak in Korean for a fan fiction I'm writing entitled "Cloudy Eyed Girl."
@ Plug lang... Michael Cruz' Official Site is now online! Check it out!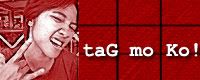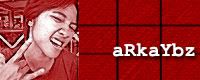 April 2004
May 2004
June 2004
July 2004
August 2004
September 2004
October 2004
November 2004
December 2004
January 2005
February 2005
March 2005
April 2005
May 2005
September 2005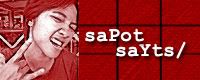 my sites
cybervhong
rockidolmikecruz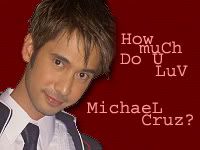 Tell us here! Join our Mike-loving crew and jam with us!
my faves
mikesterz community
abs-cbn kapamilya
lee dong gun official site
kwon sang woo official site
pinoyexchange
peyups
queer eye for the straight guy
friendster
happy tree friends
blogspot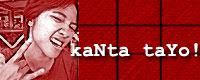 Just heard this song and saw its music video, thanks to Mikester Mitzi (Michi). I'm really tripping over Lee Dong Gun Oppa! Perfect rendition! I LOVE it!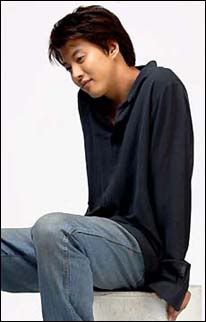 And I love you so
Lee Dong Gun
(originally done by Perry Como)
And I love you so
The people ask me how
How I've lived 'til now
I tell them I don't know

I guess they understand
How lonely life has been
But life began again
The day you took my hand

And yes I know, 
how lonely life can be
The shadows follow me 
And the night won't set me free
But I don't let 
the evening get me down
Now that you're around me

And yes I know, 
how lonely life can be
The shadows follow me 
And the night won't set me free
But I don't let 
the evening get me down
Now that you're around me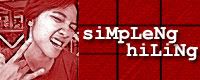 GADGETS
magic sing!!! | an iPod! | mini mp3 player | SONY discman | 5 megapixel digicam with firewire | a new cellphone with hi-res camera | a new PC monitor and keyboard set
MUSIC STUFF
Beatles Album Collection | Michael Jackson's HIStory | Eraserheads Anthology | The Calling's 1st and 2nd album | a new guitar | Sugarfree's Dramachine
BOOKS
Angels & Demons by Dan Brown | Five People You Meet in Heaven by Mitch Albom | Pugad Baboy 1-17 by Pol Medina (complete collection) | Secrets of the Code (Guide to reading The Da Vinci Code) | Like Water for Chocolate by Laura Esquivel
VCDs
Will & Grace Seasons 1-7 | Queer Eye for the Straight Guy | My Boyfriend is Type B (Korea)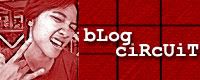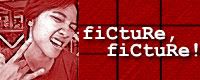 click on the thumbnails to view the actual pictures... you can also leave your comments!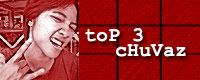 [ as of 05.05.05 ]
.songs in my head.
>> and i love you so - lee dong gun (oppa!)
>> love moves in mysterious ways - nina
>> now and forever - richard marx
.addictions.
>> Stained Glass (Korea) Lee Dong Gun | Kim Ha Neul
>> coffee (pa rin! may pinagbago ba? adik 'to!)
>> KR movies/dramas!
.crushes.
>> Lee Dong Gun Oppa!
>> Kwon Sang Woo Oppa!
>> John Vladimir Manalo of Goin' Bulilit (at talaga naman!!!)
.most abused words.
>> sarang hae yo!
>> oppa
>> charos!!!
.must-haves.
>> money! money! money!
>> a nice big hug everyday
>> jowa (hahaha! as if!)
.must-do's.
>> get a new job
>> layout Michael's poster
>> learn to speak Korean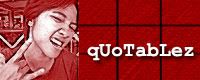 "Alam kong hindi niya kasalanang magmahal ng iba, pero sana hindi ka niya sinasaktan." - text ni Beb (02.01.05)
Hustle like crazy!!!
cRaZy FoR You!

Just wanna congratulate my friend/idol Michael Cruz for a superb rendition of Madonna's Crazy for You, which is already enjoying airplay over four radio stations, Love Radio 90.7, iFM 93.9, 101.1 YesFM and WRR 101.9 For Life!

Mike, ang galing... sobra. Parang hindi ikaw. Pataubin na natin ang mga dapat pataubin! Ipakita at iparinig na natin sa kanila kung sino ang dapat mag-angkin ng mga kantang iyan! GO!

hUstLe baBy!

My movie for this season is Stephen Chow's Kung-Fu Hustle! Why, you ask? Because even if the movie cost me a hundred and fifty pesos for entrance and another seventy-five for popcorn and mineral water, I felt that it was all worth it. The cinematography was superb, the story was interesting enough to hold you for around two hours, and the characters are so colorful they're enough to complete a big box of Crayola.

Stephen Chow did a really great job with this movie, even better than his work in Shaolin Soccer. It was an unbelievable one-man show, with him serving as the Executive Producer, Director and Scriptwriter all at the same time. I appreciated his effort in putting more interesting fight scenes (thanks to Fight Choreographer Yuen Woo Ping), because I wouldn't have been that satisfied with the movie if not for those bone cracking kung-fu sequences.

Some of the fight sequences that really amazed me were:

1) the very first major fight scene involving The Axe Gang, Donut, Coolie and Tailor (Tailor was so good! I was blown away by his arm rings... and Donut was great with his bo! Wow talaga!);

2) the fight scene between Donut, Tailor and the hired killers of the Axe Gang (I'll just gush. THIS IS THE SCENE TO WATCH OUT FOR. Beautiful special effects, graceful movements, oh... I cannot even think of how it could've been done in any other way.);

3) the fight scene between Number One killer and the fated lovers ("I didn't know the Lion's Roar can be done with a speaker." - Number One Killer), and;

4) the fight scene between Number One Killer and Stephen Chow's character. (The Buddha Palm Fist was, although fictional and unbelievable, amazingly done. Also, ang ganda ng katawan ni Stephen Chow... diba, Sheiden?!)

Of course, a Stephen Chow movie would not be complete without his brand of humor which is very Pinoy, in my opinion. I will not even begin to enumerate the funny scenes in the movie... there are A LOT. You have to watch it to really appreciate the humor. The only thing I didn't like about it is that Coolie died without a fight. Sayang naman yung abilidad niya, namatay lang siya nang ganun. Sana nagka-fight scene pa siya ng isa para mas cool!

Kudos to Stephen Chow for a job well done. I promise I'm going to buy a copy of this video once it gets released... for maximum enjoyment. Hehehe... watch the movie guys! Hindi kayo magsisisi!

SiNg-aLoNg FeVeR!

We celebrated the birthdays of our hosts Vhong Navarro, JC Cuadrado, Drew Arellano and Toni Gonzaga at IO KTV ABS-CBN last Thursday, January 13. Special thanks to Ms. Rosalie Stacey (IO Branch Manager) and her staff for accommodating us and giving in to our whims. Super thanks for the super fun night of food and songs!

Also, special thanks to Ritz Apple Strudels' Mr. Andrew Que and Ms. Michelle for providing us delicious apple, peach, mango and strawberry strudels! And siyempre, maraming salamat kay Mam Babes for helping me out with stuff! You're heaven-sent, Mam!

biRthDaY gReeTs!

Happy, happy birthday to my "anak" JC Cuadrado!!! This guy has been the sweetest, most guwapo guy ever to come into my life. Too bad he's not my type. I swear, JC is a great catch... as a friend, as an "alaga," as a boyfriend probably... (I wouldn't know that for sure! Hehe.) so I just want to greet him a very happy birthday today, January 15! I hope you enjoy your day today, and I love you too!

Also, happy birthday to Boy Cute Drew Arellano tomorrow, January 16! Ito rin si Drew, super sweet and super nice... kaya naman mahal na mahal ko rin! Drew, have a great one... stay as sweet and nice as you are, and see you on Monday!