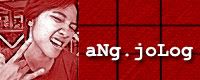 LaKas maGpuYat | LaKas maGkaPe | LaKas TumaWa | LaKas cHuMika | LaKas kUmaiN | LaKas ma-iN LoVe | LaKas TumiLi | LaKas suMuNtok | LaKas maNg-aSaR | LaKas-TaMa | hiNdi LaNg paMpaMiLya, paNg-bakLa pa! LaKas!!!

[ want a blinky? ]
[ more blinkies! ]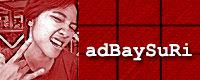 Ang mga nilalaman ng blog na ito ay solong pag-aari ng may-akda (bukod na lang kung sinabi niyang hindi...) at mahigpit na ipinagbabawal ang pagkopya, pamimirata at paggamit ng mga ito sa ibang paraan.
Pero kung ayaw niyong papigil... bahala kayo. Meron naman tayong tinatawag na KARMA!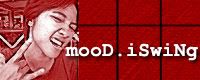 04.10.05

Ngayon ko na-realize... tumatanda na pala ako. Hindi na ako batang walang ibang inaalala kung hindi ang sarili ko. At malungkot ako dahil unti-unti na akong tumatanda.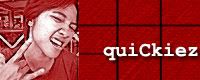 [ as of 05.20.05, 3:39p ]
@ Asar ako dahil... Sira ang PC ko!!! ARGH! I knew that ancient artifact was about to give up one of these days!!! Tigang ako sa internet! DOUBLE ARGH!
@ Currently addicted to... ABS-CBN's Stained Glass. See latest post (May 05: Job hunting) for details. Ang guwapo kasi ni Dong Gun Oppa talaga!!!
@ Kras kong ilegal si... John Vladimir Manalo ng Goin' Bulilit. Need I explain kung bakit "ilegal" ang pagka-kras ko dito???
@ Latest hobby... Researching about Seoul, Korea and learning how to speak in Korean for a fan fiction I'm writing entitled "Cloudy Eyed Girl."
@ Plug lang... Michael Cruz' Official Site is now online! Check it out!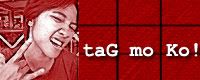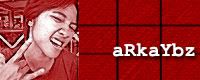 April 2004
May 2004
June 2004
July 2004
August 2004
September 2004
October 2004
November 2004
December 2004
January 2005
February 2005
March 2005
April 2005
May 2005
September 2005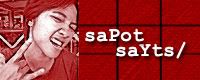 my sites
cybervhong
rockidolmikecruz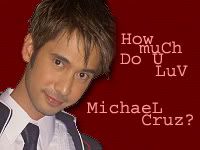 Tell us here! Join our Mike-loving crew and jam with us!
my faves
mikesterz community
abs-cbn kapamilya
lee dong gun official site
kwon sang woo official site
pinoyexchange
peyups
queer eye for the straight guy
friendster
happy tree friends
blogspot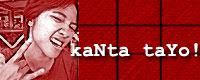 Just heard this song and saw its music video, thanks to Mikester Mitzi (Michi). I'm really tripping over Lee Dong Gun Oppa! Perfect rendition! I LOVE it!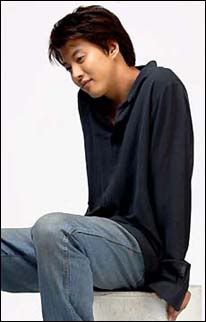 And I love you so
Lee Dong Gun
(originally done by Perry Como)
And I love you so
The people ask me how
How I've lived 'til now
I tell them I don't know

I guess they understand
How lonely life has been
But life began again
The day you took my hand

And yes I know, 
how lonely life can be
The shadows follow me 
And the night won't set me free
But I don't let 
the evening get me down
Now that you're around me

And yes I know, 
how lonely life can be
The shadows follow me 
And the night won't set me free
But I don't let 
the evening get me down
Now that you're around me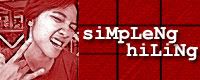 GADGETS
magic sing!!! | an iPod! | mini mp3 player | SONY discman | 5 megapixel digicam with firewire | a new cellphone with hi-res camera | a new PC monitor and keyboard set
MUSIC STUFF
Beatles Album Collection | Michael Jackson's HIStory | Eraserheads Anthology | The Calling's 1st and 2nd album | a new guitar | Sugarfree's Dramachine
BOOKS
Angels & Demons by Dan Brown | Five People You Meet in Heaven by Mitch Albom | Pugad Baboy 1-17 by Pol Medina (complete collection) | Secrets of the Code (Guide to reading The Da Vinci Code) | Like Water for Chocolate by Laura Esquivel
VCDs
Will & Grace Seasons 1-7 | Queer Eye for the Straight Guy | My Boyfriend is Type B (Korea)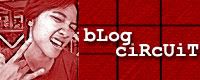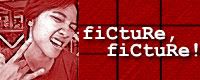 click on the thumbnails to view the actual pictures... you can also leave your comments!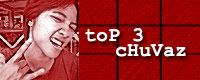 [ as of 05.05.05 ]
.songs in my head.
>> and i love you so - lee dong gun (oppa!)
>> love moves in mysterious ways - nina
>> now and forever - richard marx
.addictions.
>> Stained Glass (Korea) Lee Dong Gun | Kim Ha Neul
>> coffee (pa rin! may pinagbago ba? adik 'to!)
>> KR movies/dramas!
.crushes.
>> Lee Dong Gun Oppa!
>> Kwon Sang Woo Oppa!
>> John Vladimir Manalo of Goin' Bulilit (at talaga naman!!!)
.most abused words.
>> sarang hae yo!
>> oppa
>> charos!!!
.must-haves.
>> money! money! money!
>> a nice big hug everyday
>> jowa (hahaha! as if!)
.must-do's.
>> get a new job
>> layout Michael's poster
>> learn to speak Korean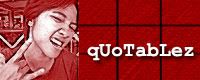 "Alam kong hindi niya kasalanang magmahal ng iba, pero sana hindi ka niya sinasaktan." - text ni Beb (02.01.05)
Can you keep up?
A gamut of emotions struck me just last week, and I wasn't quite sure how to tell all about them in one coherent blog entry. So here I am again, in my ranting mood, trying to analyze the things that I've been through in the week that was. Excuse me while I whine...


Love me, that's all I ask of you

I have yet to see Phantom of the Opera, but if there is just one thing that will motivate me to do so, it would have to be the song, "All I Ask of You." Sadly, there is not a thing I could say to support or degrade the film. You have to watch it and see for yourself if its worth your 120 bucks.

So why the heading? Well...

Yesterday night I was watching MYX channel (Mellow MYX, to be exact), and they played the music video of this song. It gave me the goosebumps. THe song didn't even have to have a music video to be that powerful. The words alone said it all: "Love me, that's all I ask of you."

Naks. Parang ang dali naman nun sabihin. Pero sa totoong buhay, nagkagalos-galos ka na, sumakit na ang ulo mo, dumugo na ang ilong mo't lahat, hindi mo pa rin masabi-sabi ang mga linyang iyan sa pinakamamahal mo.

Why is it so freaking hard to say it to the one you love?

Which brings me to the words of another (more jologs, if you may...) song I've been hearing since I've found myself addicted to Stairway To Heaven.

"Mahal kita, mahal mo ba ako? Hanggang pangarap na lang ba ito? Kaya kong gawin, ngunit di kayang sabihin... ang pag-ibig ko sana'y mapansin."

I guess because loving in silence has its benefits. You can see each other every now and then. You can casually talk on the phone without having to worry about what to say. You can hold his hand or his arms when you're crossing the street. You can kiss him on the cheek at the end of the day. You can show him your utmost concern and tell him that you are his friend, and that you will be there for him always. You can do all these things, and you never have to worry that he'll reject you, or feel ilang towards you.

However, loving in silence also has its flaws. Flaws that you wish weren't there, so you can continue loving until it hurts no more.


License to Kill

They say when you tell someone you love him, you give them the license to hurt you. And why not? You do expose yourself to harm, just like running unarmed on a warpath. You tell him you love him, and he can say "I'm sorry." Sorry for what, you ask? "Sorry I can't/don't love you the way you love me." There you go... he just used the license you gave him to hurt you.

And that's not all. He can choose not to say anything, and then you end up talking less and less... and then you don't speak to each other at all, much less look at each other.

I think about these things and convince myself that it is not advisable to give someone a license to hurt you, and yet I consider the license to hurt better than the license to kill. The license to kill is another invisible license that you give off to someone when you love him in silence and continue to do so even when you are the closest of friends.

Why is it a license to kill? Well...

You love him in silence, right? So you don't have the right to get jealous when he talks lovey-dovey to someone on the phone. You don't have the right to get mad if he doesn't text you or call you. You don't have the right to demand ANYTHING from him. You cannot hold him in your arms, cradle him and kiss him tenderly even if you wanted to just comfort him and tell him that things are going to be alright. You cannot show him just how much you love him... you control yourself too much, keep all the feelings inside.

And then what? And then you can't breathe.

That's when you start dying. And you can't blame him for using his license to kill you, because he is not even aware that he's using it in the first place.


Goodbye doesn't mean forever

Last February 26, at 6pm, Michael's mom Lourdes passed away because of an accident she'd met five days before. On the 28th, my friends (Rocky, Wella, Doris, Joemarie, Mitzi and Mhel) and I went to her wake to pay her our last respects.

It was sad (for me) to think that I never had the chance to reach out and talk to Mike's mom because it was always him I got to hang around with. I knew that she was a sweet and nice woman (I heard from my friends) who was as warm and accommodating as her son. Looking back, I had hoped to meet her on Mike's launching, which was on the 21st, but unfortunately, circumstances had not allowed that to happen.

As it is with most wakes that I had been to, the air was full of grief and masked laughter. It was Mike who told us not to be sad and quiet, so we joked around with him and told stories. Later in the evening, it was also him who made us cry.

He'd let us read a small notebook that his mom kept. It was still new, and the entries were still fresh; the last dated February 17, 2005. There, Mommy Lourdes wrote down her dreams, her prayers, and the things she'd wanted to do. We were smiling while reading the parts where she said she wanted to buy a house in Tagaytay, a new car, start a new business come March... but we started crying when we went over the entry that said she wants to buy a condo unit for Mike in Quezon City.

Mike was the first one to shed tears, and it was heartbreaking for us to see him like that, as we were used to him being the one making us all laugh. After that scene, I didn't talk as much as I did earlier in the night, and I spent our whole lamay hours spacing out, and trying to make the others laugh.

There is truly nothing more painful than losing a loved one. But I think in this experience I learned that what's more painful is not being able to get to know and feel the presence of that someone in your life even before he or she passed away. What's sad is that you missed being in the care of that person, you missed little learning moments with that person, and you missed just being with that person who could've made a little more difference in your life.

To Mommy Lourdes, I thank you for waking me up in my reverie, jolting me out of my carefree life and teaching me to pray hard for a miracle. The miracle may not have been given to us in the manner that we have expected it to be, but I feel that it would be bigger, brighter and much more special than what we've prayed for. Goodbye doesn't mean forever, says David Gates, and I believe so.


She's always a woman to me

I never really felt like I'm a woman. I've always been a little girl... or a little boy... or a little gay. :) But since I'm already 22 years old, and I'm biologically female (sige na naman, maniwala na kayo!) I guess I'm qualified to be called one.

So... to all of the women out there reading my blog, Happy Women's Day to all of you! And to all the guys... you better be treating women right or else...

And to one of the most beautiful women I know, Mommy... Happy Women's Day!!! I love you!


Don't wanna cry no more

Finally... after a month of seemingly endless sleepless and tearful nights, I stopped crying. My attendance to Mommy Lourdes' wake helped out a lot, I must admit, but I also realized that nothing can be brought back by the tears we shed.

By saying this, I do not mean that we should never cry. I personally advise crying to those who feel like it. It's therapeutic and its beautiful. And sometimes when you look back, its also funny remembering how you cried over something or someone. But now I think my tears are not going to be of exceptional use especially because I'm trying to rest and gain all of my energy back before I get another job.

I think it is better now to wake up and face each day with a smile, and scare off all the negative vibes that the world is throwing at us. Who knows... with each smile we give, there might be someone there whose tears we're going to wipe away. ;)