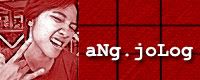 LaKas maGpuYat | LaKas maGkaPe | LaKas TumaWa | LaKas cHuMika | LaKas kUmaiN | LaKas ma-iN LoVe | LaKas TumiLi | LaKas suMuNtok | LaKas maNg-aSaR | LaKas-TaMa | hiNdi LaNg paMpaMiLya, paNg-bakLa pa! LaKas!!!

[ want a blinky? ]
[ more blinkies! ]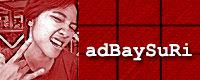 Ang mga nilalaman ng blog na ito ay solong pag-aari ng may-akda (bukod na lang kung sinabi niyang hindi...) at mahigpit na ipinagbabawal ang pagkopya, pamimirata at paggamit ng mga ito sa ibang paraan.
Pero kung ayaw niyong papigil... bahala kayo. Meron naman tayong tinatawag na KARMA!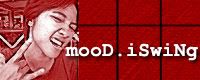 04.10.05

Ngayon ko na-realize... tumatanda na pala ako. Hindi na ako batang walang ibang inaalala kung hindi ang sarili ko. At malungkot ako dahil unti-unti na akong tumatanda.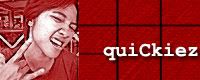 [ as of 05.20.05, 3:39p ]
@ Asar ako dahil... Sira ang PC ko!!! ARGH! I knew that ancient artifact was about to give up one of these days!!! Tigang ako sa internet! DOUBLE ARGH!
@ Currently addicted to... ABS-CBN's Stained Glass. See latest post (May 05: Job hunting) for details. Ang guwapo kasi ni Dong Gun Oppa talaga!!!
@ Kras kong ilegal si... John Vladimir Manalo ng Goin' Bulilit. Need I explain kung bakit "ilegal" ang pagka-kras ko dito???
@ Latest hobby... Researching about Seoul, Korea and learning how to speak in Korean for a fan fiction I'm writing entitled "Cloudy Eyed Girl."
@ Plug lang... Michael Cruz' Official Site is now online! Check it out!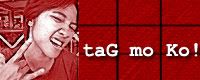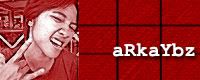 April 2004
May 2004
June 2004
July 2004
August 2004
September 2004
October 2004
November 2004
December 2004
January 2005
February 2005
March 2005
April 2005
May 2005
September 2005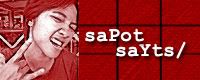 my sites
cybervhong
rockidolmikecruz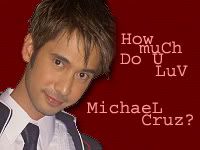 Tell us here! Join our Mike-loving crew and jam with us!
my faves
mikesterz community
abs-cbn kapamilya
lee dong gun official site
kwon sang woo official site
pinoyexchange
peyups
queer eye for the straight guy
friendster
happy tree friends
blogspot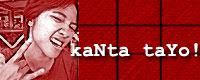 Just heard this song and saw its music video, thanks to Mikester Mitzi (Michi). I'm really tripping over Lee Dong Gun Oppa! Perfect rendition! I LOVE it!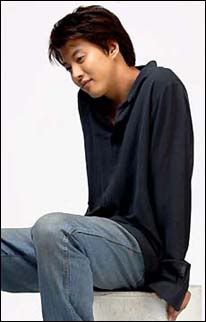 And I love you so
Lee Dong Gun
(originally done by Perry Como)
And I love you so
The people ask me how
How I've lived 'til now
I tell them I don't know

I guess they understand
How lonely life has been
But life began again
The day you took my hand

And yes I know, 
how lonely life can be
The shadows follow me 
And the night won't set me free
But I don't let 
the evening get me down
Now that you're around me

And yes I know, 
how lonely life can be
The shadows follow me 
And the night won't set me free
But I don't let 
the evening get me down
Now that you're around me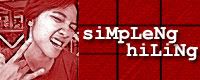 GADGETS
magic sing!!! | an iPod! | mini mp3 player | SONY discman | 5 megapixel digicam with firewire | a new cellphone with hi-res camera | a new PC monitor and keyboard set
MUSIC STUFF
Beatles Album Collection | Michael Jackson's HIStory | Eraserheads Anthology | The Calling's 1st and 2nd album | a new guitar | Sugarfree's Dramachine
BOOKS
Angels & Demons by Dan Brown | Five People You Meet in Heaven by Mitch Albom | Pugad Baboy 1-17 by Pol Medina (complete collection) | Secrets of the Code (Guide to reading The Da Vinci Code) | Like Water for Chocolate by Laura Esquivel
VCDs
Will & Grace Seasons 1-7 | Queer Eye for the Straight Guy | My Boyfriend is Type B (Korea)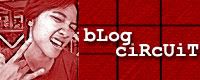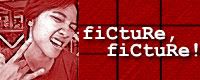 click on the thumbnails to view the actual pictures... you can also leave your comments!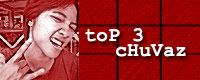 [ as of 05.05.05 ]
.songs in my head.
>> and i love you so - lee dong gun (oppa!)
>> love moves in mysterious ways - nina
>> now and forever - richard marx
.addictions.
>> Stained Glass (Korea) Lee Dong Gun | Kim Ha Neul
>> coffee (pa rin! may pinagbago ba? adik 'to!)
>> KR movies/dramas!
.crushes.
>> Lee Dong Gun Oppa!
>> Kwon Sang Woo Oppa!
>> John Vladimir Manalo of Goin' Bulilit (at talaga naman!!!)
.most abused words.
>> sarang hae yo!
>> oppa
>> charos!!!
.must-haves.
>> money! money! money!
>> a nice big hug everyday
>> jowa (hahaha! as if!)
.must-do's.
>> get a new job
>> layout Michael's poster
>> learn to speak Korean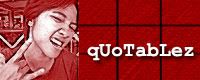 "Alam kong hindi niya kasalanang magmahal ng iba, pero sana hindi ka niya sinasaktan." - text ni Beb (02.01.05)
Hiatus
It's Holy Week once again, and for some of us, Holy Week means time off from work and school. For me, though, it means going to Baguio again after missing out on vacationing there last year (because I was just starting to work for Wazzup). And of course, it also means a time of prayer and fasting. (Bad Tara, bad Tara!)

I'm leaving with my family for Baguio tonight, and I'm not sure when I'll be back. Pero baka nandito na ako ng first week of April kasi may mga dapat pa akong asikasuhing obligasyon na hindi ko nga maiwanan at hanggang ngayon eh iniisip ko pa kung paano ie-execute. So before I leave for the Summer Capital of the Philippines, let me just make kuwento about quite a number of things that I encountered for the past week or so.


Pink Men in Love

I'm super proud of my LITERA2 professor Sir Jerry Torres for being able to publish his very first book entitled, Pink Men in Love and other stories. I was there when the book was launched last March 12, Saturday in Powerbooks Greenbelt, and I also got to meet some of my favorite professors: Sir Ronald Baytan, Master F (Frances Sangil) and Sir Vince Groyon. Of course, the book's author was there too, in all his pink glory. Heehee, how cute.

It was quite nostalgic being there. I felt like being in La Salle again, only, I had no term papers, thesis proposals and storyboards to worry about. I wasn't able to really TALK to my professors, but it was really nice just being there and being able to see them and hear them speak.

Sir Baytan, for example... one of the professors I dearly love (uuuyyy! charos!) gave the introduction for Sir Jerry. I felt like sitting inside his classroom and listening to his usual lecture with a British accent (but Sir Baytan is Chinese). Nakaka-miss. He also asked me to take his picture as he delivered his introduction, but cautioned me to take his picture ONLY when he is smiling. "Alam mo naman ang lola mo, laging naka-sima (simangot)," he said and I smiled. Walang pinagbago ang lola, gusto laging maganda siya. :)

Sir Groyon was his usual sarcastic self. He asked me where I worked, and when I said I just resigned from ABS-CBN, asked what show I worked for.

"Wazzup, Wazzup."

"Oh good," he said.

"I knew you were going to say that," I said and rolled my eyes.

"The show is not funny. Pero maganda ang chemistry nung tatlo (referring to Vhong, Drew and Toni)."

"So you watch the show!?" I asked, surprised.

"Only when I'm waiting for The Amazing Race."

Okay. No use arguing with Lord V (as my blockmates called him). The rest of the night I spent listening to my professors talking and making landi. (They're all gay, except for Master F who, like I, is an honorary member of the third sex.) Sir Baytan was the one who kept on talking to me, and it was fun hearing some of his stories.

I bought Sir Jerry's book after I had dinner with my cousin Pearl and friend Red in Cafe Bola. I finished reading it that night. It was a nice, refreshing read. I recommend it to my gay and non-gay friends. Masaya siya... magaan basahin. Don't expect me to give a detailed review. I'm not very good at that. Basta... masaya siya. Tapos. :)


Station 168

Mike brought me to Station 168 (Makati Avenue Branch) for the first time last March 13. It was a cool place, with majority of its customers Koreans. (Hello, Mitzi... dito ka raw dapat lagi tumatambay sabi ni Mike! Harharhar!) It's a very clean internet and gaming cafe where you can also order food and beverage. Good service... at mabilis ang internet ha? You guys should try surfing there one time. They also have add-ons such as webcams, cd players, headsets and the like.

Try niyo. They have lots of branches around the metro. They also have one in Malate and Tomas Morato. :)


Hurray for Hollywood!

I got the chance to take a peek at this Fritz Ynfante-directed show because Mike was in it and I videotaped his rehearsal and performances. I also got to hang out with OJ Mariano, Sandy David and Nyko Maca. For those who don't know them, sorry na lang kayo. Harharhar. No, seriously, OJ and Nyko were Star in a Million 2 Grand Finalists, and Sandy David was a Star in a Million May Finalist along with Mike.

OJ was a surprise. I always thought he was aloof and all that, probably because of his imposing figure and built, but he was a cool guy. He laughed a lot, and was madaldal. He also kind of acts like a kid sometimes. (And by that, I don't mean in a bad way, okay?) Nakakatuwa pala siya. Sandy and Nyko were also great people. Sandy is very sweet, and she has a very powerful voice. Nyko, meanwhile was a great performer. She can dance as well as Douglas Nierras' Powerdance. Nakikipagsabayan. Ang galing. :)

To OJ, Sandy, Nyko, Mike, Ms. Isay Alvarez, the Powerdance and Mr. Fritz Ynfante... congratulations for a great show!


Spanglish

Saw this movie with my bestfriend, Macri, Mike, Wella, Rocky and Mhel last March 18. It was a surprisingly good movie, considering that Adam Sandler was the lead actor. Not that I don't like Adam, actually crush ko nga siya, pero akala ko puro katarantaduhan din ang pelikulang ito like Happy Gilmore, Billy Madison and the like.

I could write a review for this movie, but maybe I'll do that later. Wala pa masyado sa align ang utak ko. Basta, the most memorable line of this movie... for me at least...

"Will you get out of the wind!?" - John (Adam Sandler) to Flor

Diba, Macri? Hahaha! Watch the movie so you'll know what I'm talking about. :)

And also... magawa nga yung ginawa ni Flor kay John. Yung "I love you" sabay takbo. And when I say takbo, as in TAKBO!!!


Plaridel peeps!!!

It was so nice having to meet old friends again after not seeing them for a while. The night we saw Spanglish, we also got to meet our Plaridel friends. Wala na akong pakialam kung nagtitili ako sa labas ng Bubba Gump sa Greenbelt. I was just so excited to see them again. And Rexy was right, some things remain unchanged. :)

Ronald, Rexy, Lea, Majo, Ian, Ryann, Jeann, CK, Ryan (did I forget anyone?)... thanks for being there in Greenbelt that night. Nabawasan ang pagkapanglaw ko dahil sa inyo. I do hope we could hang out and spend time together like before. Sana one of these days. I miss you guys SO MUCH!


Market! Market!

Did you know that watching a movie in Market! Market! will only cost you 90 pesos when it's a newly released movie and 70 pesos if the movie is already on its 2nd or 3rd week?

Yehey!!! Dito na ako sa Market! Market! manonood ng sine! Grabe... ang mahal kasi sa Greenbelt! I do hope the moviehouses are clean. I'm assuming they are. :)


Kuya Jhong in Stardance

Last March 19, I watched Stardance in Channel 2... and I was so surprised when Kuya Jhong (Hilario) danced with that girl from Powerdance! They did an interpretative number, swaying to Josh Groban's Broken Vow. And WOW! I fell in love with Kuya Jhong all over again! Great movements, heart-breaking facial expressions, breath-taking acrobatics... what more could I have asked for!?

Kuya Jhong, I know I already texted you this... but damn, I have to say it again. YOU WERE GREAT! I loved the dance... and I missed you also!

To those who don't know, Kuya Jhong is one of the sweetest, most gentlemanly people I know. At nakaka-miss 'tong taong 'to nang sobra. I don't even remember when we met last, pero alam ko sa ABS pa yun. Kuya Jhong, miss na kita! Mwah! Labyu!!!

***

There... I'm through with my long post. I think this will suffice my absence for the next two weeks na. Hehehe... to all of you reading my blog, have a happy and restful vacation, and have a peaceful Holy Week. Stay safe, y'all! Mwah!