Hmmm...

I wanted to post something very objective about Constantine's being voted off yesterday in American Idol, so I slept on it and thought of what I'm going to post here. I'm not saying its objective though. Heehee. Shades of fandom.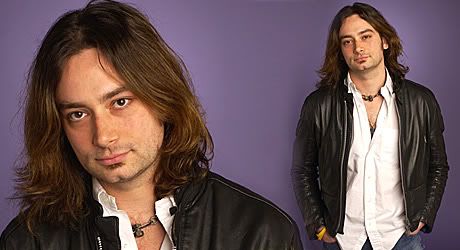 He just loves to pout, doesn't he?
Ever since the auditions special of American Idol, Constantine was my bet. What can I say? He reminded me of Michael, the only rocker dude who dared to defy the biriteros and biriteras of Star in a Million... so it was safe to say that his rocker looks and style really caught my attention. Among my bets were Travis Tucker, and Nikko Smith, who both entered the American Idol Top Twelve.
I was amazed at how Constantine grew while in the competition. At first I was decided that he will not be able to sustain his standing because there were better singers in the AI4 pack. I was wrong. His charms not only worked on me, but on many Americans (majority of which were girls) as well. He kept wowing the audience every week, and, even when people said bad things about him, kept his head high and his silly mouth pouting.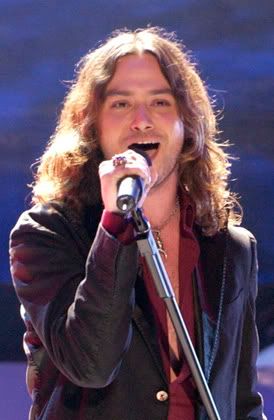 Left: Constantine wowed the audience, and even Simon Cowell with his Bohemian Rhapsody performance. Right: Ryan Seacrest asking the viewers to vote for Constantine.
To me, his best performance was when he sang Bohemian Rhapsody. The song was a personal favorite of mine, for unexplainable reasons, and he delivered it with such gusto that I was totally blown away. (See previous post: April 14
I just lost it! Totally!
) After he sang that, I was convinced that he deserved to be in the American Idol Finals.
But that was not about to happen. Last night, he was voted off the competition, and I could say that there were some in the audience who were not only surprised but outraged as well. Honestly, at first, I had the same reaction. I had wanted Scott Savol to get the boot last night because his performance last Tuesday did nothing for me. Vocals wise, he was a little shaky. Performance wise, his energy was very, very low.
Yes, I might be biased because after all, Constantine WAS my bet since day one. Watching his performance last Tuesday, I already knew he would probably be in the bottom three with Scott and Anthony Fedorov. Vocals wise, the song he chose (
How you remind me
done by Nickelback) didn't really bring out his vocal prowess, but he did make up for it in his all-out performance. When I heard Wednesday morning that he was voted out, I couldn't believe it. I had to watch AI for myself.
As I'd predicted, he was in the bottom three... with Anthony and *gasp* Vonzell Solomon, who, in my opinion did great in her rendition of Christina Aguilera's
I turn to you.
I was so disappointed when I saw Scott sitting in the safe zone, thinking "Why the hell isn't he in the bottom three? Why is Vonzell in the bottom three in the first place?" Oh well... Americans have the last say, after all.
Anyway, yes... I was shocked and outraged when Constantine was voted out, but it wasn't as if I didn't expect it. I just didn't think he was going to be voted out this soon. I still think Scott should've been the one who was sent home, and then Constantine could go after that.
I remember the time Michael was voted off Star in a Million a week before the Grand Finals. Ahh, yes... tears. :) I was reminded of how I cried then when I saw Paula Abdul crying while Constantine did an encore of his song. I've read some comments over the internet that Paula was kind of overreacting to the fact that one of her favorite contestants was being sent home, but I completely understood her. Even if she was a juror, she was still a person after all who would tend to have favorites. And she must've seen something in Constantine that made her believe he was made for greater things.
Well... I would have to say this. I wasn't expecting Constantine to win the title, but I rooted for him and was glad every week that he stayed in the competition. I was saddened by America's decision to send him home, but I guess that's just how they saw it fit.
American Idol, like many other reality TV shows today, is just a competition. It may show one side of you that people will definitely love, or hate, but it doesn't make your whole personality. There are still many facets of you that can bring you to where you want to be. This is just a step towards that... so I'm not worried about Constantine at all. I believe that he has a strong personality and talent to match. He'll go places, that's for sure... but for now, its goodbye, Constantine... I'd love to watch you perform again soon!
Here are some shots of Constantine's final contest performance, courtesy of the
American Idol website
: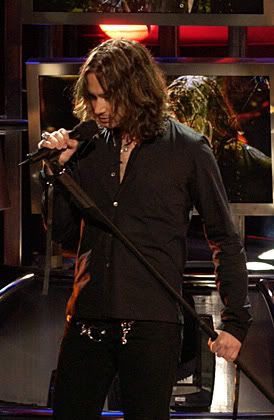 I know the hair is messy... but somehow I find him sexy in these pictures, especially the one in the left. Love it!

Love ko blog ko!!!

Its been a year since I started blogging, and I must say, I'm really loving it! I love to write and express myself, and I love getting to know other people and connecting with them through their blogs. I've learned a lot, from other people's experiences, thoughts and musings, and I super love the fact that some people take the time to write me also sometimes.

Happy birthday to Jologs with Style, my blog... my baby... and thanks to all the people who dropped by, read my entries, wrote comments or just quickly passed by.