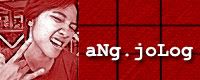 LaKas maGpuYat | LaKas maGkaPe | LaKas TumaWa | LaKas cHuMika | LaKas kUmaiN | LaKas ma-iN LoVe | LaKas TumiLi | LaKas suMuNtok | LaKas maNg-aSaR | LaKas-TaMa | hiNdi LaNg paMpaMiLya, paNg-bakLa pa! LaKas!!!

[ want a blinky? ]
[ more blinkies! ]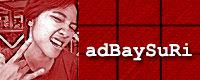 Ang mga nilalaman ng blog na ito ay solong pag-aari ng may-akda (bukod na lang kung sinabi niyang hindi...) at mahigpit na ipinagbabawal ang pagkopya, pamimirata at paggamit ng mga ito sa ibang paraan.
Pero kung ayaw niyong papigil... bahala kayo. Meron naman tayong tinatawag na KARMA!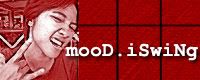 04.10.05

Ngayon ko na-realize... tumatanda na pala ako. Hindi na ako batang walang ibang inaalala kung hindi ang sarili ko. At malungkot ako dahil unti-unti na akong tumatanda.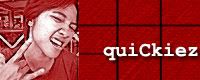 [ as of 05.20.05, 3:39p ]
@ Asar ako dahil... Sira ang PC ko!!! ARGH! I knew that ancient artifact was about to give up one of these days!!! Tigang ako sa internet! DOUBLE ARGH!
@ Currently addicted to... ABS-CBN's Stained Glass. See latest post (May 05: Job hunting) for details. Ang guwapo kasi ni Dong Gun Oppa talaga!!!
@ Kras kong ilegal si... John Vladimir Manalo ng Goin' Bulilit. Need I explain kung bakit "ilegal" ang pagka-kras ko dito???
@ Latest hobby... Researching about Seoul, Korea and learning how to speak in Korean for a fan fiction I'm writing entitled "Cloudy Eyed Girl."
@ Plug lang... Michael Cruz' Official Site is now online! Check it out!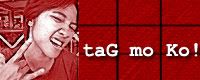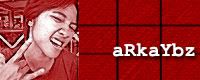 April 2004
May 2004
June 2004
July 2004
August 2004
September 2004
October 2004
November 2004
December 2004
January 2005
February 2005
March 2005
April 2005
May 2005
September 2005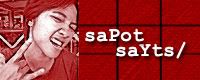 my sites
cybervhong
rockidolmikecruz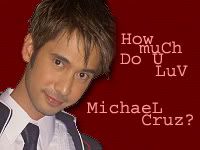 Tell us here! Join our Mike-loving crew and jam with us!
my faves
mikesterz community
abs-cbn kapamilya
lee dong gun official site
kwon sang woo official site
pinoyexchange
peyups
queer eye for the straight guy
friendster
happy tree friends
blogspot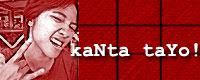 Just heard this song and saw its music video, thanks to Mikester Mitzi (Michi). I'm really tripping over Lee Dong Gun Oppa! Perfect rendition! I LOVE it!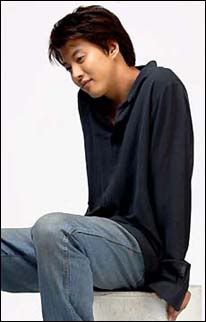 And I love you so
Lee Dong Gun
(originally done by Perry Como)
And I love you so
The people ask me how
How I've lived 'til now
I tell them I don't know

I guess they understand
How lonely life has been
But life began again
The day you took my hand

And yes I know, 
how lonely life can be
The shadows follow me 
And the night won't set me free
But I don't let 
the evening get me down
Now that you're around me

And yes I know, 
how lonely life can be
The shadows follow me 
And the night won't set me free
But I don't let 
the evening get me down
Now that you're around me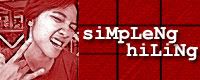 GADGETS
magic sing!!! | an iPod! | mini mp3 player | SONY discman | 5 megapixel digicam with firewire | a new cellphone with hi-res camera | a new PC monitor and keyboard set
MUSIC STUFF
Beatles Album Collection | Michael Jackson's HIStory | Eraserheads Anthology | The Calling's 1st and 2nd album | a new guitar | Sugarfree's Dramachine
BOOKS
Angels & Demons by Dan Brown | Five People You Meet in Heaven by Mitch Albom | Pugad Baboy 1-17 by Pol Medina (complete collection) | Secrets of the Code (Guide to reading The Da Vinci Code) | Like Water for Chocolate by Laura Esquivel
VCDs
Will & Grace Seasons 1-7 | Queer Eye for the Straight Guy | My Boyfriend is Type B (Korea)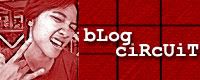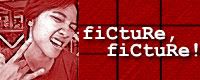 click on the thumbnails to view the actual pictures... you can also leave your comments!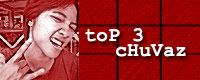 [ as of 05.05.05 ]
.songs in my head.
>> and i love you so - lee dong gun (oppa!)
>> love moves in mysterious ways - nina
>> now and forever - richard marx
.addictions.
>> Stained Glass (Korea) Lee Dong Gun | Kim Ha Neul
>> coffee (pa rin! may pinagbago ba? adik 'to!)
>> KR movies/dramas!
.crushes.
>> Lee Dong Gun Oppa!
>> Kwon Sang Woo Oppa!
>> John Vladimir Manalo of Goin' Bulilit (at talaga naman!!!)
.most abused words.
>> sarang hae yo!
>> oppa
>> charos!!!
.must-haves.
>> money! money! money!
>> a nice big hug everyday
>> jowa (hahaha! as if!)
.must-do's.
>> get a new job
>> layout Michael's poster
>> learn to speak Korean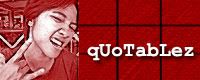 "Alam kong hindi niya kasalanang magmahal ng iba, pero sana hindi ka niya sinasaktan." - text ni Beb (02.01.05)
Halo-halo sa Baguio!
Summer is here once again! And Pinoy summer will not be complete without a special glass of halo-halo to quench your thirst-slash-sweet-tooth! I personally like Chowking Special Halo-Halo... kasi masarap yung leche flan nila. Hehehe. How about you? I bet you have your own favorite too.

My entry, however, will not be about halo-halo or its delicious sahog. It's just aptly named because I'll be making kuwento about the different people, things and places I've encountered while on vacation in Baguio City. Halo-halong kuwento... ganun. So here goes... hope I quench your thirst for kuwento. Heehee.


Cafe by the Ruins ROCKS!!!

The first place Macri, Ate Pearl and I hung-out in when we got to Baguio was this old place in #25 Chuntug Street, Baguio City. Its called Cafe by the Ruins... and boy, was it a perfect place for hopeless romantics like us!

We arrived at the place at around 6:00 in the evening, and sat ourselves on the farthest side of the cafe, near a big and round stone structure which probably served as a stage for poetry readings or rituals being done there. This is because Cafe by the Ruins was founded so that Baguio-based artists and writers will have a place to hang out in and jam, so to speak.

It took us quite a while before we ordered our food because our mouths were still agape while feasting our senses with the ambiance of the place. Wooden furniture everywhere, yellow colored light, candles and flowers on the table, plus the trademark cool Baguio air... it was heavenly. It was perfect.

I ordered Ruins Pasta. Macri had Classic Pasta, and Ate Pearl had Spinach Lasagna. And then we asked Rhey (the very nice waiter who served us) to suggest which kind of tea was their best. He mentioned Red Johanna, and we ordered for a pot.

While waiting for our orders, we spent time bantering about not bringing a camera. Sayang. Kodak moment pa naman. Maganda kami under yellow light eh... I learned that in College. Sabi kasi, gumaganda at gumaguwapo raw ang tao sa yellow light, kaya lagi sa mga pelikula, pag romantic ang mood, yellow light ang gamit. Not to mention, romantic pa ang dating. Sayang... puro kami girls. Meron pa naman sanang tatlong vacant seats sa table namin... sakto sana. Harharhar.

Ruins Pasta was great! And so was Red Johanna. It tasted softly of strawberry, and it leaves a certain sweetness in your mouth. Yung tipong if you drink the tea and kiss someone on the lips afterwards, malalasahan niya pa yung tea sa bibig mo. Ganun. (Ay! Ang halay!)

After eating our respective dishes, we suddenly remembered the Champorado & Tinapa that was included in the menu. We decided to give it a try, so we ordered one serving of Champorado & Tinapa... para maka-experience lang, ganun. Again, it was Rhey who served us, and with the serving of Champorado & Tinapa came three little spoons. We laughed. We didn't even tell Rhey to give us three spoons. He just assumed we would share. That's why we found him nice. But that's not after I joked about the spoons.

Joke Scenario: Rhey, the waiter serves the food with three spoons and I quip: "Aba! Bakit tatlo ang kutsarang binigay mo? Are you insinuating na tatlo kaming maghahati sa champoradong ito? Ano'ng akala mo sa amin, mahirap?"

Naturally, the waiter will be stunned with the reaction, and probably would apologize or not be able to speak. And then enters my supposed dialogue after I grab one of the spoons: "Oo nga. Thank you ha?" Sabay subo ng champorado. Mmmm. Tsalap!

We had a great time in Cafe by the Ruins. Unfortunately, we weren't able to go back anymore in the following days. Naubos kasi ang pera sa kakabili sa ukay-ukay. I would've loved to go back there just to have a taste of Red Johanna. It had me hooked on the first cup. :)

So... when you guys get to go to our Summer Capital, check out Cafe by the Ruins. Prices are reasonable, considering the tasty and healthy food (ex. a generous helping of Ruins Pasta costs Php132.00, and a pot of refillable Red Johanna is Php50.00), and the ambiance is just so wonderful. Romantics will fall in love with the place, that's for sure.



Cafe by the Ruins
#25 Chuntug Street, Baguio City
(074) 442-4010 | (074) 446-4010
FAX: (074) 442-5272
ruins@mozcom.com




Picha Volante Boys

It was Holy Thursday, and we were walking up Session Road, looking for pasalubong for my little sister Jill. We chanced upon this car parked near Pizza Volante, covered by a blanket and decorated with little bags, trinkets, earrings and necklaces. They were for sale, and they definitely caught my attention.

We stopped by to take a look at the trinkets, and I was amazed at the different designs of necklaces that were being sold. Not only that, one of the guys selling the stuff caught our attention too. He was cute. And he was also helpful in volunteering information about the stuff they were selling. You see, some of the necklaces' pendants were designed to look like tribal symbols for wealth, fertility and the like. And Mr. Cute was the one telling us about what those pendants stood for even though we were not asking.

Si Ate Pearl... instant atraction ata. Harharhar. Pagka-alis na pagka-alis namin sa lugar na yun (well, not after Macri bought a huge set of antique/Sing-Galing gong looking earrings), gusto na agad bumalik para makita si Mr. Cute. Unfortunately, just like what happened with Cafe by the Ruins, we didn't get the chance to go back there again and have another "educational" encounter with Mr. Cute.


Galing UK!

If there's one talent I'm proud of, it would be my knack for finding cool shirts and other apparel in ukay-ukays. The last time, I was able to buy five shirts and a pair of pants, all for less than five hundred pesos. It would have been cheaper if not for the sad state of tourism in Baguio (meningococcemia was to blame), but since the ukay business started losing money, they had no choice but to raise prices. The shirts and blouses which were for sale at Php30.00 to Php50.00 then were being sold at Php70.00 to Php85.00.

Nevertheless, I chose the best ones I found... ang saya! Bago na namang set ng wardrobe ito! Hehehe... we even staged a mini-fashion show for Mommy when we got home. Ate Pearl, with her all-black and malalandi ensembles, Macri with her purpleness and I, with my cartoon-looking designed clothes (halos lahat kasi may mukha at drawings).

Sabi pa ni Ate Pearl, napaghahalata raw ang mga personalidad namin sa mga binibili naming damit. Kako, oo nga. Siya kasi, halos lahat ng binili niya, itim at medyo revealing. Malanding mataba, kako. Not that she's very fat. She's just trying to hide little love handles around the waist. Hehehe. Si Macri naman, iisang color-scheme lang ang sinusunod. Monochromatic purple ang kulay. Parang gustong mag-model ng halaya sa Maynila. Ako naman ang perennial isip-bata, dahil yung mga nabili ko, puro may cartoons.


SM Baguio: Super Maganda!

Black Saturday, Macri, Ate Pearl and I went to the city again to buy some more clothes from UK2 (ukay-ukay). Afterwards, we went on a food trip of binatog (big white corn kernels with sugar, milk and grated coconut), fishballs, kikiam, kwek-kwek/tokneneng (quail eggs with orange breading) and grilled dried squid.

While on our food trip, I noticed that the newly constructed SM Baguio was quite near (keyword: QUITE), so I said, "Punta tayong SM Baguio!"

Naman. Ma-experience man lang diba? So there we were, three little girls walking through Burnham Park, up an overpass and through the road where the old Victory Liner station stood. In other words, ANG LAYO NG NILAKAD NAMIN!!! What I thought was just a short stroll ended up to be an exhausting fifteen-minute walk! For the first time ever since I got to Baguio that week, i broke sweat!

At siyempre, ako na naman daw ang sinisi nung dalawa. Actually, okay lang. Ako naman kasi ang nagsabi sa kanila na, "Basta! Sundan niyo lang ako!"

Ayun! Awa ng Diyos, nagkaligaw-ligaw kami dahil sa sinabi kong iyon! And I thought there was never going to be a colder walk than what I experienced that night walking through the flyover in Buendia. Harharhar!

Anyhow, we finally got to SM Baguio and we JUST LOVED the place! There's a cafe on every floor (Starbucks, Figaro, Seattle's Best, etc.), a lovely veranda, and fresh air everywhere! Saan ka makakakita ng SM na labas-masok ang malamig na simoy ng hangin? Na hindi air con ha? As in fresh air? :)

So ayun, nagpaka-gaga lang kami ni Ate Pearl sa veranda... we tried to chill ourselves to death and stuff like that. There's this Gerry's Grill branch on the 3rd floor, facing the beautiful night sky, and we joked that if ever we eat at that branch and order sisig, the sisig would just freeze five minutes after it was served! Ganun kalamig! Eksaherado!