I hope I was correct stating that title of mine. I'm sure as hell it means "I love you" in Korean... and if I spelled it incorrectly, I'm sorry.
Actually, I was thinking of a title appropriate for this entry. As you might already have figured out, this is about my sudden ardour for Koreanovela heroes like Martin (Lee Dong Gun) of Lovers in Paris, Cholo (Kwon Sang Woo) of Stairway to Heaven, and Francis (Ji Sung) of Save the Last Dance for Me. But of course, this is NOT just about that. Its also about some of the things I've noticed about the Koreanovelas we've been addicted to since the Chinovela fever subsided. At kung sakaling mabarubal ko man ang mga paborito niyong Koreanovela, sorry na lang ha? Ito lang talaga ang mga napansin ko at nakapagpabagabag sa isip ko.
Ready? Here we go.


The Amnesiacs: Jodi (Choi Ji Woo), Francis (Ji Sung), and Martin (Lee Dong Gun)
[1]
AMNESIA.
I'm sure a lot of you Koreanovela avids will agree with me when I say that amnesia is one recurring factor in Koreanovelas. In Stairway to Heaven, Jodi (Choi Ji Woo) had amnesia after an accident caused by her stepsister. Francis (Ji Sung) lived as Adrian in Save the Last Dance for Me because he couldn't remember who he was after being brawled and hit by a car. And Martin (Lee Dong Gun) pretended to have amnesia towards the end of Lovers in Paris because she wants his uncle Carlo (Park Shin Yang) and the woman he loves, Vivian (Kim Jeung Eun) to forgive his bad behavior towards them.
Aside from these three Koreanovelas (which I have some knowledge of), my friends say there are other Koreanovelas which have amnesia playing a big factor in its story. (Hindi ko na maalala... parang Endless Love ata tsaka The Truth. Correct me na lang if I'm wrong.) Of course I would have to take their word for it since I haven't seen all those Koreanovelas they've been addicting themselves to.
Okay... so WHAT IS IT with amnesia? Answer: I don't know. I just find it funny that majority of these Koreanovelas follow the same flow. Its not entirely different with how our own soap operas flow, is it? :) Ngayon tuloy kapag nanonood ako ng soaps or Koreanovelas, ang unang reaction ko kapag may character na naaaksidente ay, "Ay! Magkaka-amnesia siya!!!"
[2]
THE LOVE TRIANGLE/SQUARE.
Let me see if I can figure this out, okay? It's a tad complicated. :)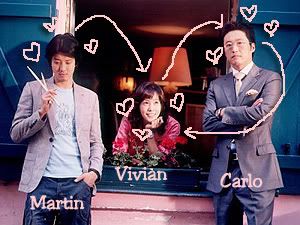 The Lovers in Paris Triangle: Martin loves Vivian loves Carlo.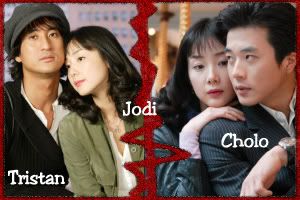 The Stairway to Heaven Triangle: Tristan loves Jodi loves Cholo.

The Save Your Last Dance for Me Square: Steven loves Sandy loves Francis; Celine loves Francis loves Sandy.
Love triangles. Oooh.
And to make matters worse, they add one more person to complete the perfect square! Martin, Vivian and Carlo have Karen, Carlo's ex-wife. Tristan (Shin Hyun Joon), Jodi and Cholo have Eunice, Jodi's stepsister who is madly in love with Cholo. Steven, Sandy and Francis have Celine (Lee Boo Young), Francis' fiance for ten years. Now that complicates things quite a bit, don't you think?
Again, its not entirely different from our soaps. In fact, they are so much the same... that's why we are endeared to the characters of these Koreanovelas so much. The only difference is that Koreanovelas move miles faster than our soaps. (Honestly, I like it that some of our soaps are beginning to pace quicker nowadays. They're learning! Thank God!) :)
[3]
ROUGH LEADING MEN.
Did you guys notice how rough Korean leading men are with their leading ladies? Take for example, Martin, who would always pull Vivian's arm just to get her attention. And Cholo, who would playfully push, kick and hit Jodi in the head when they mess around. The same goes for Francis too, when he was still living his life as Adrian in Sandy's father's hotel.
My cousin Pearl and I kind of like leading men like that... but not too much. I mean, its kind of fun roughing it up and playing around, but sometimes it could be kind of irritating having a person like that pushing and pulling you anytime he wants like you were a rag doll of some sort. Korean leading men sort of remind me of my College Kabarkada, Ian, who would show his affection to his girlfriend by engaging in a slapfest. Wala lang...
Its just funny, because we saw a Korean couple before in Greenbelt, and they were having an argument. We wouldn't know about what, of course, they were speaking in their native tongue! They just reminded me of our Koreanovela heroes and heroines, because there they were, walking around Greenbelt, bantering with each other, the guy trying to pull the girl away. Lovers in Parksquare? Stairway to Greenbelt? Save the Last Slap for Me? :)
We wonder, also... if in real life, all Korean men are like those portrayed in their Koreanovelas. Hmmm... pretty interesting.
[4]
RICH LEADING MEN.
I just noticed that all three bidas of the Koreanovelas I've seen are Presidents or high-ranking officials of their own companies. Wow... gaano ba karaming lalaki sa Korea ang presidente ng sarili nilang kompanya? Makapunta na nga ng Seoul! :)
Also, as my friend Mitzi so wittily put it, "(Dahil sa Koreanovelas), nalaman ko na ang mga Presidente pala ng kompanya ay laging may time na makipag-date!" Well said! I also noticed that from Carlo, Francis and Cholo. They would put off work so that they could be with the women they love. Si Cholo nga, he would hold very unnecessary parties para lang hindi magkita sina Tristan at Jodi (when Jodi still had amnesia and assumed the name Jenna).
I mean... how kewl is that? Hehehe. If that were true in Korea, they must have very delinquent company presidents. :) But of course it might just be fictional, right? I wouldn't really know.
[5]
THE KOREAN LOVER'S CARRY
Here in the Philippines, we are accustomed to the traditional lover's carry which is usually done when the groom carries the bride like a baby as they enter their house, hotel suite or any other honeymoon venue. Its also a popular act of care and concern (and love, also) in Filipino soaps.
But of course, our Korean friends have their own version of the lover's carry. I'm sure all you Koreanovela fans noticed that. Who would've ever thought that the classic piggy-back carry would be so sweet and romantic?
O, hindi ba? Kung buhat-buhatin na lang ni Martin si Vivian kapag natitiyempuhan niyang iniiwan ito ni Carlo? Ang sweet, diba? Eh yung naka-piggy back pa rin si Jodi kay Cholo nung huling eksena nila sa Stairway to Heaven? How very loving and sad at the same time...
Naalala ko, sabi pa nga sa Bubble Gang, "Alam mo naman, para sa ating mga Koreano, ito (piggy-back carry) ang simbolo ng tunay at wagas na pagmamahalan!" Hahaha! How true! :) And how I wish meron ding lalaking magko-Korean lover's carry sa akin! At siyempre, dahil KOREAN lover's carry nga, dapat KOREAN din ang gumawa!!! Okay na sa akin si Oppa Lee Dong Gun o si Oppa Sang Woo. Yun lang naman!
There... I would've written a lot more but damn! I have to go and watch more Korean movies and telenovelas. Grabe... I'm turning Korean na! And I thought my love for anything Korean would die after the sudden pull-out of New Nonstop 3 in Arirang last year. Grabe na 'to!
Sarang hae yo!!!