Today, for the first time since my birthday and also my last day at work with the Wazzup, Wazzup crew, I visited the show's set. Nothing really has changed with the set, and the people most especially. They're still the same warm and funny people I knew, and left.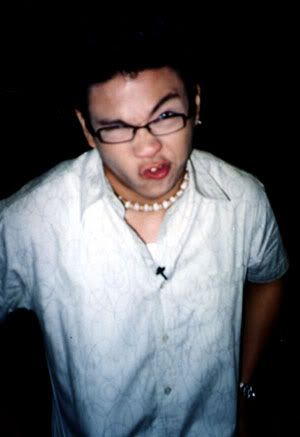 One of the earliest Wazzup pics I took myself. Ain't Drew the cutest?
The first person from the cast who gave me my first tight hug was Drew. Wala pa ring nagbago. He's still the same old nice guy... and it was the same old "kilig" hug I got. He was like "Awww... Tara... we missed you!" and hugged me for a good 10 seconds there. Man, that was COOL.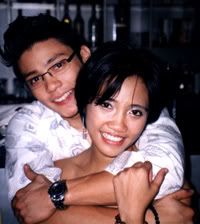 I did miss Drew very much, especially because he was one of the people I so LOVED working with. (Yeah. THAT was the understatement of the year!) I got to give it to the guy... he's just simply adorable. Those who read my blog since last year would have known how Drew treats us, the staff. Well... finished with the 10-second hug... moving on...
I was so happy to see Toni once more. When I left Wazzup, she just transferred to ABS-CBN and was having a difficult time shielding herself from all the badmouthing she was getting from the press. Now, she's one of the most sought after TV hosts and comediennes in the industry. Not that she wasn't in that status before... it's just that her star shone brighter when she transferred.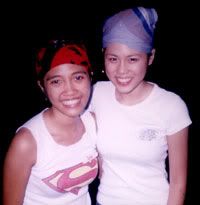 Tin and me wearing the uniform of the day: Bandannas!!!
Anyway, she kept on talking the usual Toni Gonzaga way: "Yan na nga ba'ng sinasabi ko Tara eh... bakit ka bumibisita rito samantalang bukas na ang anniversary!? Why? Why?" (I kinda paraphrased. The three hosts were all talking at the same time so I didn't get to catch exactly what each one was saying.) And then Kuya Vhong told Toni to show me a short video that she made, which, as Kuya Vhong said, had me in it.
Toni asked her PA to get her laptop, and then she turned it on. She handed it over to me and asked me to watch the video. It was a 4-minute music video collage of pictures taken of the Wazzup staff and cast, episode screencaps, pictorials and many more. I can hear Ronan Keating singing "When you say nothing at all" in the background. It was a wonderful and touching video that Toni edited herself. (Great job, Toni!)
While watching the video, Kuya Vhong teasingly handed me some tissue. Baka raw kasi maiyak ako... na sa totoo lang eh muntik-muntikanan na, kung hindi nila ako kinukulit nang sobra. As in sobrang ingay nila sa loob ng dressing room! Parang piyesta!
I also got to know Mel, the researcher who replaced me. Nagsusumbong sa akin kasi raw hindi Mel ang tawag sa kanya ng mga tao sa Wazzup kundi Tara. Even Toni would call her using my name. Earlier in fact, she said, when she handed Kuya Vhong the episode script, he told her, "Thanks, Tara."
That really touched me.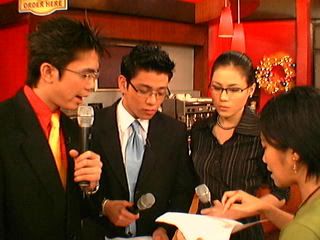 One of the Christmas Toniokes we had where the three hosts had to sing. That's me in the green shirt. Note how serious Toni is. And look who's super enthusiastic to sing!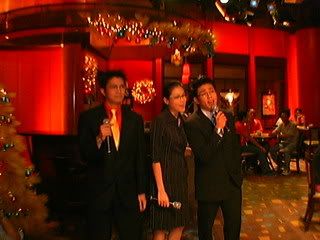 Ladies and gentlemen, the actual singing. Heeheehee. Saludo ako kay Kuya Vhong dito. Biruin mo, siya lang ang tumula! :) Labyu, Kuya!
Kaya naman daw pala "Tara" ang tawag nila kay Mel eh dahil halos pareho raw kaming magbihis. Minsan nga raw, nag-off shoulder pa siya sabay baseball cap. Napaisip tuloy ako kung kailan ako nag-off shoulder. Hehehe. Besides that, she's also the one who replaced me as Toni's so-called vocal coach whenever there's Tonioke. And according to Sheiden, halos pareho rin kami ng style na mag-beat at kumumpas sa tabi ng teleprompter.
Nevertheless, I'm touched because Kuya Vhong, Drew and Toni didn't forget about me. Simple lang naman akong tao eh. Wag mo lang akong kalimutan, masaya na ako roon. So when I heard Mel's story, I was really touched to tears. Pero siyempre hindi ako umiyak noh... tama na muna ang melodrama. Besides, Wazzup is a gag show... not a soap opera.
It was so nice to see and hug some of my most favorite people on earth: my good friend Chaps, my "beb" Sheiden, my Papa Eric, Allan, Mark, Ate Shey, Kuya Vhong (who I missed so much!!!), Toni, Drew, my anak JC (who I saw the day before)... grabe, it was a very happy and sad day altogether. Even the utility men missed me (Mga Kuya!!! Walang kalimutan ah! Konyatan ko kayo!).
I would've stayed longer to hang out with the Wazzup people, but they were so busy putting up the grand Anniversary Special later today (which, I'm sure would be a blast) so I just discreetly left and wished them all good luck.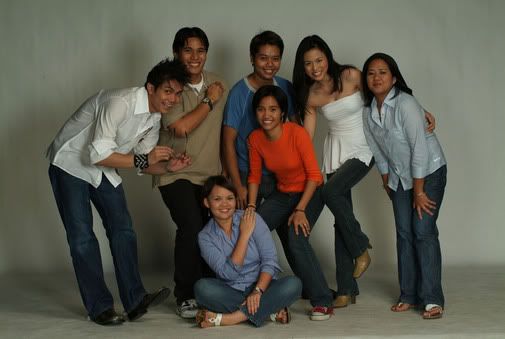 This is a pictorial that followed after the shoot of the Studio 23 station ID. I'm the one in the orange shirt. Saya... super.
Anyhow, kahit anong sabihin ng mga tao na kesyo umalis ako sa show because I hate the show... it is
SO WRONG
. I loved the show to death and I would do anything and everything for the show, and for the people in the show with whom I have emotional attachments with. But once and for all, I would like them to know that I left the show not because I fell out of love with them, but because I realized I have to love my life also. Production is a serious business, and you gotta be physically fit to stay in the business. I lacked that trait, so I had to go. Pero gaya nga ng sinabi ko... if THIS is really for me, then chances are, babalik at babalik din ako rito.
Hindi man sa Wazzup family na minahal ko, pero sa mga taong natutunan kong mahalin, babalik at babalik ako. I miss them so much that I want to give them the tightest hugs in the world. Happy Anniversary to Wazzup, Wazzup!!!