I've been SERIOUSLY looking for a job since last week. By SERIOUSLY, I mean, going to job fairs and scouring the net for classifieds. So far, I've given one resume to a company I kind of liked in the MegaMall job fair, e-mailed one resume to an employer who posted a classfied ad in Pinoyexchange, and applied for five different companies through Jobstreet.
If I had it my way though, I would've flown to Korea and applied for the most insane jobs (in my mother's point of view) ever. Of course they would have to involve my current flame (???) Lee Dong Gun Oppa!
[ Dream Job One: The Wardrobe Assistant ]
I'm a self-confessed Stained Glass addict. I've been hooked since Day 2 (I wasn't at home for the pilot episode, so...) and I've been noticing that Dong Gun's necktie is always, always out of alignment! It gets me irritated and frustrated sometimes because his character in the series is supposed to be a top honcho of a Japanese insurance firm... and his outfit is sloppy? Come on.
When I was still with Wazzup, I often get peeved when Kuya Vhong's tie is out of place, so its either I tell him to fix it up or I fix it up myself. Which made me think: I could be Dong Gun's wardrobe assistant! And the only thing I'm supposed to do is his tie! Like this: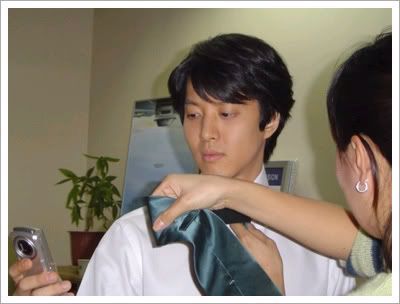 Kung puwede nga lang, buong damit nito mula ulo hanggang paa isusuot ko sa kanya eh! Hehehe... ano kaya yun? Parang bedridden!
Ever since I blurted out at home, "Ako na lang magwa-wardrobe assistant kay Dong Gun," my cousin and bestfriend would tease me, saying "What if I get to be Dong Gun's wardrobe assistant, but the Korean producers don't pay me anything?"
The answer they got?
"Wala akong pakialam kung pakain lang... kung kimchi lang araw-araw ang ipakain nila sa akin! Basta!!! Ako ang mag-aayos ng necktie ni Dong Gun!"
Oh well, so much for labor rights.
[ Dream Job Two: The "Stunt" Double ]
Being an addict means endlessly searching the web for tidbits about whatever and whoever it is you're addicted to. Fortunately, the people of Pinoyexchange have been very helpful in my "research" and I've found out that a certain scene of Stained Glass has been shot 15 times more or less.
The reason? Some were saying it was because of the weather, and some were saying it was because the actors did not get the scene right.
If you're wondering what that scene is, it is THIS scene:

Oh, eh lamang lang pala ng dalawang diamond peel abrasion at isang bote ng Mane & Tail 'tong si Kim Ha Neul sa akin! Puwedeng-puwede sana akong mag-double kung di niya kinaya!!!
With this in mind, I realized my true calling. Being a stunt double.
Argh! Why didn't I learn of this earlier? I would've taken Kim Ha Neul's place if she were tired, I could understand perfectly! Of course, they would have to make me wear a wig and how-many-inch-heels, and shoot the scene from behind me to "cheat" the whole thing... but as I've said, everyday kimchi is no problem at all if my job was to act as a double for a scene like this!
[ Dream Job Three: The Movie Prop ]
I've seen Dong Gun's first movie, My Boyfriend is Type B a few days ago, thanks to Mitzi. I don't want to babble on about how Dong Gun looked really cute in his outfits and his antics in the movie because you would've already predicted that (as if!). There's just this one scene that I really remember vividly, and would make me smile always.
It was the scene towards the end where Dong Gun rides the bus where Han Ji Hye was, and at the very first moment he stepped inside, he clamped both of his arms on the steel post just beside the bus driver's seat. (I'm sorry I don't have a screencap for that, so I'll just post this movie still I got from a Korean movie site.)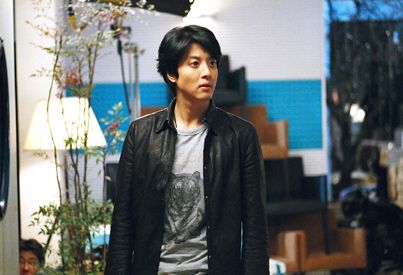 Sobrang payat ni Beebee Chubbs ko rito! Hehehe... I call him Beebee Chubbs after I saw his stint in the Korean drama Friends with Won Bin. Chubbs siya dun!!!
It was also then that I remembered one of my long-time friends, who, in one of your High School presentations, acted as a lampshade and sat on the set for the rest of the performance. Her name's Lea, by the way. (Hi Lea!) She gave me an idea for another job!
Yes, being the steel post!
To those of you who have seen Type B, you might remember how Dong Gun held on to that post for a minimum of 10 seconds, like he's holding on for dear life... who wouldn't want a man like him hold on to her like that? *Sigh* I wish I were the steel post on that bus. And I don't care if I freeze to death in Korea as long as Dong Gun Oppa held on to me like that for a measly ten seconds.
At least I'd die with a smile on my face.
Just kidding. Slightly. :)